It is often asked why Christians suffer.  Every believer that goes through a time of difficulty or suffering has likely asked the Lord why.  In my experiences He generally doesn't answer the why question, at least not quickly or in the midst of the trial.
Was it Sin?
The religious leaders in Jesus' time generally had the belief that someone that suffered a long-term illness was a result of sin.  In John 9:2, Jesus' disciples asked "who sinned, this man or his parents, that he was born blind?" It's an easy question to ask because then we can place blame for the suffering.  
Suffering seems to be easier to handle when we can blame someone or something.  Yet look at the answer that Jesus gave, "It was not that this man sinned, or his parents, but that the works of God might be displayed in him" (John 9:3).
John then tells about how Jesus made mud and put it on the man's eyes and told him to go wash in the pool of Siloam.  The man was not able to see until he had followed the instructions to go wash.
After the miracle, the uproar began.  People recognized the man as one who sat and begged yet here he was walking about with his eyesight.  The uproar that followed showed the Pharisee's view of God's work. They questioned the man then his parents and finally cast him out by saying "You were born in utter sin, and would you teach us?" (John 9:34) showing their strongly held belief that his blindness was a result of sin.  They could not accept that a man born blind could see. The fact that the miracle was performed on the Sabbath simply intensified their refusal.
Another Question
For all of those years, this man suffered along with his family for this one miracle.  That brings about a different question for me. "If God is good, kind and caring, why such a long period of suffering?"  It seems like an almighty God could figure out a better way to reveal His works than to have a person and family suffering, especially for so long.
We talk about suffering for the Kingdom, but when it comes down to it, we generally don't do a good job of it.  We like to be comfortable. Our churches are designed to make us feel good. When we begin to encounter a difficulty, we pray to be delivered from it.  Unfortunately, it's not common for Christians to be in the midst of a great trial and display a positive attitude much less exhibit joy. How can we represent the hope that we have in Jesus when we react to hard situations like those who don't have Christ in them?
However, we are told in James 1:2 to "Count it all joy . . . when you meet trials of various kinds".  I've heard this scripture quoted in times that make me want to choke the person saying it. Joy is not generally my first response to a difficult situation.  Why is that? Well, the simple answer is I'm not as Christ-like as I need to be. A better answer is that I'm more me-focused than Kingdom-focused.
Have Joy
What is joy?  I've generally equated joy with happiness, but as I continue to grow and learn more about the character of God, I'm finding that joy and happiness are not the same.  Happiness is an emotional expression while joy is a state of being. Happiness is generally dependent upon circumstances and events that surround us. Joy is dependent upon our connection with the Lord.  
Joy is a fruit of the Spirit (Galatians 5:22) and therefore, is something that is produced when walking in fellowship with the Holy Spirit.  While we can choose to be happy in any circumstance, joy is deeper. Joy is not just a choice but a position of relationship with God. We are indwelt by the Holy Spirit and the fruits of the Spirit should be evident in us regardless of circumstances.  The choice we have is to allow the Spirit's fruit to be displayed. As Paul says in Galatians 5:25, "If we live by the Spirit, let us also keep in step with the Spirit." In other words, the fruit of the Spirit should be evident was we walk step by step through any, and all, of the circumstances of life.
Develop Endurance
James 1:3 says, "for you know that the testing of your faith produces steadfastness."  Some translations say endurance. What is this steadfastness or endurance? Is it merely a process of enduring through the difficulty?  I think not.
Consider the tree that grows in a windy place. If it doesn't have deep roots then it will be toppled when the gusts come.  A tree that is planted in a field that is watered from the surface regularly will have roots that grow just below the surface to soak up the water provided.  However, a tree that is in a desert must develop deep roots to gather the water from way down below the surface. Our faith is much like those roots. When we grow in a place of ease and simplicity, our roots don't develop.  Through times of difficulty, suffering, and trial, we must tap into the strength of the Lord which is found deep in faith.
The greater the calling the greater the preparation time.  When God calls us to great times of faith, He will grow us into the calling.  It seems like a form of punishment at times but it is not. It is a growth for endurance so that we can be steadfast in all things.  James 1:4 tells us "And let steadfastness have its full effect, that you may be perfect and complete, lacking in nothing." We will often shortcut a time of difficulty instead of pressing into the Lord for all that we are to gain from that experience.  This is contrary to what James is saying. We won't get the "full effect" unless we are willing to go through the entire experience.
Build Faith
When I was younger I lifted weights.  There are two basic concepts in weight lifting, to develop bigger muscles or to tone the existing muscles.  For toning you would use lighter weights and do more repetitions. When desiring to develop bigger muscles, you would use heavier weights and have to push through to the determined number of repetitions.  If I was straining and struggling short of the goal, it was a consideration to stop and say that I had achieved something even if missing the goal.
In the growth of our faith, we have times when God is toning us, and we are experiencing smaller more frequent hurdles to exercise our faith.  These times may feel like a constant barrage of little things that just keep coming. Why, Lord, do all these little things happen to me? It is not a time for despair, rather it is a time to tone your faith.  Face each of those "little things" with a determined intention to know God better and to believe Him for a good outcome.
Other times in life, the Lord will allow or bring into our life much more difficult tests of faith.  These come in many forms such as a severe illness, job loss, financial distress or some other seemingly disastrous events.  It is easy to plead for relief from the suffering.  Part way through, it's easy to think that we have learned or grown enough, but much like when working to develop muscles, we must push to the end to get the complete benefit.  Just like James says, to "let steadfastness have its full effect," we must endure to the completed result. Then, we will have a deeper faith that will endure all the storms of life no matter how strong.
Beyond Understanding
I think it takes greater faith to walk in joy through suffering than to believe for a healing or deliverance from the suffering.  In the dry and weary land we must reach deeper to drink of the water. Our roots of faith must grow. And then when the rains of refreshment come we are able to see the strength that the Lord has grown in us and more importantly we are able to worship Him with a new understanding of who He is and how He is so incredibly beyond our understanding.
So back to the question of suffering.  Why does a good, loving God allow people, even His children, to suffer?  I dare say that many times we will never understand or be able to answer this question.  God's ways are just too far beyond our understanding (Isaiah 55:8-9). But we can know that regardless of the reason why, we can walk through the suffering with joy.  And no matter how long the suffering lasts, we can bring God glory through it. Because maybe, our suffering was allowed so that the works of God could be displayed, and He can be exalted.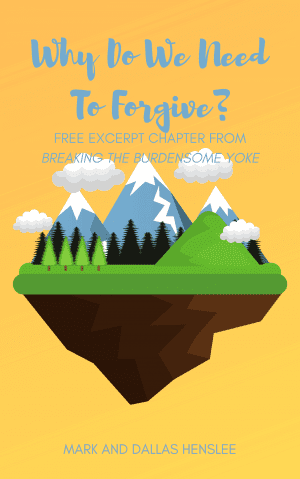 Finding Forgiveness
Get your complimentary PDF excerpt of the Forgiveness chapter from Breaking the Burdensome Yoke.
Delivered straight to your email.
Enter your email address above to receive new blog content and devotional thoughts bi-weekly!