The couple had consulted specialists and decided that humanly there was no hope for them to bear a child of their own. But the desire was deep; a longing for something that they couldn't have. So they petitioned the Lord. Pleading for a long time, until one day, they received the answer. The desire of their heart had been granted by the Creator of the Universe. There was a baby growing in the womb of a woman who was sure that she could not have children.
This scenario is repeated throughout Scripture from Genesis to the Gospels. Just a few examples include Abram and Sarai who longed for a child and waited many years for God's promise to be fulfilled with the birth of Isaac (Genesis 17, 21); Manoah and his wife who bore Samson even though she was barren (Judges 13); Hannah, wife of Elkanah, mother of Samuel who pleaded so fervently that Eli, the priest, accused her of being drunk (1 Samuel 1); Elizabeth and Zechariah, parents of John the Baptist, who had given up on having children, and yet God saw fit to use them in their old age (Luke 1). In each of the examples in Scripture, God had a divine purpose for the child that was born.
Everyone Has A Purpose
Today, God continues to grant the requests of couples desiring for a baby. He also continues to have a purpose for each and every child that is born. Proverbs 16:4 says, "The Lord has made everything for its purpose, even the wicked for the day of trouble."
Everyone has a purpose in life, even the wicked. We are told in Romans 9:17, "For the Scripture says to Pharaoh, 'For this very purpose I have raised you up, that I might show my power in you, and that my name might be proclaimed in all the earth.'" God does not waste a life. He even takes those who choose not to follow him and uses them for His purpose. Think about that for a moment. An atheist, who denies the very existence of God, is useful to the purposes and plans of the Almighty.
My life is one of those stories where a couple sought for a child. My parents gave up the hope of having a child of their own so they adopted a son. Then, a couple years later, they began the adoption process again. However, they so deeply desired a child that was of their flesh. God was gracious and granted their request before the second adoption had gone very far. I am the result of that pregnancy.
Much like the mothers in Scripture, my mom dedicated me to the Lord. I remember seeing my mother praying for her children, year after year, when we were walking right, and especially, when we strayed. I believe that a praying mom is one of the most powerful weapons against the forces of darkness. Involved fathers leading their family in the ways of God are just as powerful and just as important.
Surrendered
God will use those who don't follow Him for His purposes. He gave man free will because He desires to have a relationship with His creation. He desires for us to seek after Him and walk with Him in our everyday life. In other words, He desires for us to choose to walk in relationship with Him instead of forcing us to follow.
As my mom prayed, God drew me to Him. In April 1977, sitting in the Sunday School office with my teacher, I surrendered my life to Christ to be my Lord and Savior. The kid who threw a temper tantrum to beat all others, destroyed stuff, and was completely uncontrollable, began to change. When I made the decision to surrender my will to the Lord, God began a good work, and I know that He is faithful to complete that work (Philippians 1:6).
There have been other times when I've had to surrender my desires. Being a selfish human, I have had to crucify the desires of the flesh as I have sought to walk in the ways of God's Kingdom. It's been a process of surrender, growth, maturing, and more surrender, growth and maturing, with a few set-backs along the way.
Works in Process
Forty-six years later, I'm still a work in process. I've worked hard for many years to become what I thought God wanted me to be. So many times I have sought Mark's way to fulfill God's purpose for my life. I'm a living testament to the Proverb, "Many are the plans in the mind of a man, but it is the purpose of the Lord that will stand." (Proverbs 19:21)
I don't know what the next forty-six years will look like, but I know they will look different than the last forty-six. Heck, I don't even know what the next six months of my life will look like. For a guy that is a planner, that is a big deal. I'm the person that had his life all figured out. I've created more plans, more budgets, more analyses than I care to consider. Looking back, I'm not sure what in my life actually went according to my plans.
So how do I know that the next years of my life will be different? Because, as Geoff Moore sings, "Godgottaholdonme". And not just for salvation. He took Mark to the pit of despair, allowed me to get close to the edge of losing it all, and then bopped me upside the head, heart, soul, mind and everywhere else He could get to.
You see, I had made a nice box for God to stay in. I even made an agreement with God; well, He didn't exactly agree to it, but I tried to believe that if He would stay in that box, we could get along just fine. I thought I was able to do enough to please Him. I was wrong.
Boxless Relationship
God didn't agree with my box, so He took it and blew it to smithereens. Not a shred did He leave behind. And you know what? I've never been so free in my life. You see, the box I had made for God was really a prison cell for me. As long as I tried to keep Him in the box, I was unable (unwilling really) to allow Him to use me to fulfill His purpose for my life.
Now, I have the privilege of walking in relationship with the Lord Almighty. It is so much different, and better, than my old religious ways. I still make mistakes, have struggles, and disappointments. But I know that He is there loving me through it all.
What about you? Do you have a box that you've put God into? Have you fully surrendered your life and will to His Lordship? What are you continuing to hold onto that is really holding you back from fulfilling the purpose for which you were created?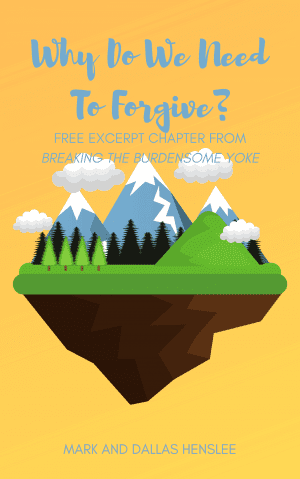 Finding Forgiveness
Get your complimentary PDF excerpt of the Forgiveness chapter from Breaking the Burdensome Yoke.
Delivered straight to your email.
Enter your email address above to receive new blog content and devotional thoughts bi-weekly!