When I was younger, we used to say, "Rain, rain, go away.  Come again another day."  Of course, if we could keep sending the rain away because it was inconvenient, there would be catastrophic results.
Elijah's story
Consider the story in 1 Kings 17-19.  The rain stopped and would not return until Elijah commanded it to do so.  In the season of drought, the Lord provided for Elijah by telling him to move and reposition near a ravine.  In this place, God provided food and water.  However, after a time, the stream dried up, and Elijah had to reposition again.
God sent Elijah to a town and arranged what I like to call a "divine appointment"  with a widow.  Elijah asked her to meet a physical need which the widow said she could not because of limited resources.  God often asks people to meet needs that only He can meet; she just had to be obedient in doing what she could do.
During the years of no rain, Elijah was also impacted by the environmental circumstances. However, he continued to listen to the Lord's instructions and minister accordingly.  
The story continues, and we see that King Ahab blamed Elijah for the difficulties of the drought.  Elijah refused to accept the blame.  Instead, he reminded Ahab that the current dire circumstances are a result, or consequence, of the choices Ahab and his family had made.  The issue was Ahab's family had chosen to worship Baal rather than God.
Cue the scene change–Scripture then describes how there was a grand display to see if Baal would vindicate his false prophets.  He didn't.  As a false god, he couldn't.
Elijah was confident in the Lord's victory and even consumed large quantities of a valuable resource, in the form of water, to make a more definite declaration that the Lord is God!  After this intense showdown, Elijah told Ahab that rain was coming.
Send the Rain
Rain in the spiritual realm can be refreshing or overwhelming.  Rain in the natural/physical realm can replenish or ruin.  The absence of rain can also be devastating.
During our sabbatical, we had hoped for a prolonged, soft-soaking metaphorical rain for our souls and spirits.  What we got, however, was more like the monsoon season, both in the  spiritual and in the physical sense. 
Spiritually, we found ourselves fighting more intense warfare than what we normally encounter in our ministry work.  We had our own false prophets we had to confront and battle.  
Physically, it was uncanny; every time we went to a new destination, with the exception of one, the rain followed us.  It became the norm for the rain to follow us.  So much so that some people started to joke about whether or not we should add "rain bringers" to our ministry résumé.  
All joking aside, I got to the point where I told the Lord, "I'm tired of the rain.  I need more sunshine.  But, if this rain is prophetic, I receive the abundance of blessing that is being poured out over us."
There are so many songs that use rain as imagery: "Holy Spirit Rain Down" (Hillsong Worship, 1998), "Let it Rain" (M.W. Smith, 2001), "Bring the Rain" (MercyMe, 2006), and of course, the hymn, "There Shall Be Showers of Blessing" written by Daniel W. Whittle in 1883 based on Ezekiel 34:26-27.  Somehow, those old hymns speak and minister to me in such a deep and profound way.
There shall be showers of blessing:
This is the promise of love;
There shall be seasons refreshing,
Sent from the Savior above.
Showers of blessing,
Showers of blessing we need:
Mercy drops round us are falling,
But for the showers we plead.
Confidence to Go On
Elijah wasn't confident in the circumstances of what he could see.  He was confident in what the Lord spoke to him.  But, here's the thing; at some point, Elijah's confidence shifted, and he became fearful because of what he could hear and see in the natural realm.  He was weary, and he became easier prey.
God provided again, even in Elijah's weariness, but He called Elijah to task.  It wasn't so much that God reminded Elijah who he was, but that God reminded Elijah Who he served.
I had an Elijah episode during our sabbatical.  It was a pretty deep place of despair.  "Lord, I need to know we're not alone; that what we do matters; and that You actually care that I'm overwhelmed emotionally and spiritually." 
I didn't have a strong wind, earthquakes, or fire like those that Elijah experienced.  But I did have an impression; a still small thought, "Go look for an encouraging sermon."
That sermon gave me back a little bit of hope.  I watched, listened, made notes, rewound and finished notes for several hours with that one sermon.  And then, there was a small shower of blessing; a reminder in a song that was new to me.  "In the rain, still You reign, You sustain" ("You Sustain" Mike Todd | Transformation Church).
Still You Reign
We've repositioned multiple times in our journey with God.  And, you know what?  God has continued to provide for us in the dry seasons, even though there were, and still are, difficult circumstances.
Are you struggling to see the Lord's hand in your situation?  Are you the person the Lord wants to use to provide for someone else, even if you think you can't?  Is the Lord calling you to soak in His presence?  
In the dry seasons and the rainy times, we have a God who is there for us.   It's a choice, every day, to allow the Lord to be the One that reigns, refreshes, restores, reframes, and sustains.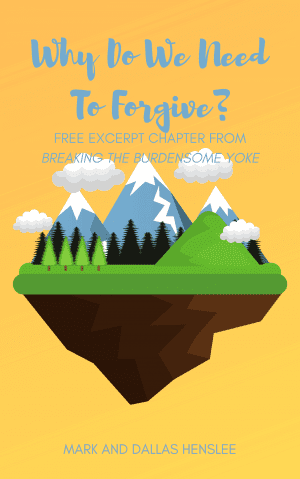 Finding Forgiveness
Get your complimentary PDF excerpt of the Forgiveness chapter from Breaking the Burdensome Yoke.
Delivered straight to your email.
Enter your email address above to receive new blog content and devotional thoughts bi-weekly!