You know those days when you feel like one more crashing wave may cause your proverbial boat to shatter into a thousand pieces? The days when you've been riding the waves so long, you've become seasick? I've had more than a few of those in the course of life and ministry.
In those instances, whether short-lived days or extended seasons of rough seas and crushing waves, there are spiritual reminders that the circumstances are not beyond God's control.  There are Scriptures, illustrations, and life experiences which people share as encouragement.
You Are Covered
One of these encouraging words came during an intense time of sifting and training. "You will hear and feel the war raging around you. Weapons and fire will land very near you, so near that you can feel it, but it will not touch you. You are covered, you are both covered, by God's shield."
The Lord gave the following promise directly to Israel, but it is so similar in quality to the above word of encouragement that He spoke over me through a friend that I have personalized this promise.
When you pass through the waters, I will be with you; and when you pass through the rivers, they will not sweep over you. When you walk through the fire, you will not be burned; the flames will not set you ablaze. Isaiah 43:2 NIV
The Israelites had to put faith into action to walk through the parted waters.  They were not immediately transported to the other side (Exodus 14).  
The three captured men, renamed Shadrach, Meshach, and Abednego by their captors, walked out their convictions. They did so even to the point of facing what appeared to be certain death in the furnace, yet they were not burned, nor did they smell of smoke when they came out of the furnace (Daniel 3).
Walking Through Water and Fire
God has asked us to pass through the water and fire.  Over the last 20 years, we've left a home church family that we loved and partner tracks in both our places of employment to move from Texas to Colorado to help church plant. 
The move was drastic as we had 3 small children, no jobs, no housing, and the sale of our house fell through right before we left. The church plant we relocated to assist closed within 4 short months.  Mark walked away from a lucrative position (again being on partner track) to start his own firm and have more scheduling flexibility to be a bi-vocational pastor of a church plant. Several years later, we found ourselves in a forced exit due to a power play rather than a disciplinary action.  Our ministry, our home church, our friends, and our support structure went "Poof!" all at once. We've been reprimanded by church and denominational leaders for following God's way instead of man's.  
We've endured the additional difficulties of family life, strained finances, etc. that come with being in active ministry, and we've even had a time where God did not restore us to formal ministry. Restoration and sending us back out came with the price of releasing our man-made identities and imaginary box of who God was to us.
Leave Your Nets
Remember when Jesus was walking on the shore and said, "Leave your nets and come follow Me"? (Matthew 4:18-22; Mark 1:16-20).  He asked the same of us. We closed our businesses, turned away from our security in our professions, sold much of what we owned, and paid off all the debt we had incurred; doing so necessitated being homeless for a year.  Choosing to live, minister, and develop a ministry from scratch while remaining completely debt-free has not been easy. There were, and still are, days that it feels that the circumstances or due dates can overwhelm us. Sometimes we come right down to the wire of needing a provision whether it be food, money to pay a bill, or plane tickets. The promise, "We will not be overcome," motivates us to continue walking through.
Promise of Passage
See, the promise given to us didn't say we would be removed from the war; just like the promise given to Israel didn't remove the obstacles.  It says, "I will be with you." In other words, I will see you through, not around.  I will be your Protector, Trainer, and Sustainer.
When you go through deep waters,
I will be with you.
When you go through rivers of difficulty,
you will not drown.
When you walk through the fire of oppression,
you will not be burned up;
the flames will not consume you.
For I am the Lord, your God,
the Holy One of Israel, your Savior. Isaiah 43:2-3a NLT
Likewise, on those days, weeks, months, years that just one more wave might send your boat toppling or dash it against the jagged rocks, God, My God, the Holy One of Israel is right there with me, and He will be there for you. I find it is so much easier to endure the hardship when my focus is on Him as He walks through the storm with us.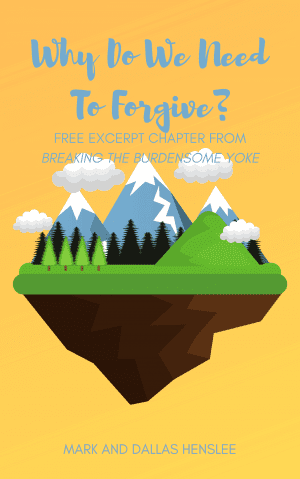 Finding Forgiveness
Get your complimentary PDF excerpt of the Forgiveness chapter from Breaking the Burdensome Yoke.
Delivered straight to your email.
Enter your email address above to receive new blog content and devotional thoughts bi-weekly!