"You are the light of the world. A city set on a hill cannot be hidden. Nor do people light a lamp and put it under a basket, but on a stand, and it gives light to all in the house. In the same way, let your light shine before others, so that they may see your good works and give glory to your Father who is in heaven." (Matthew 5:14-16, ESV)
When I was younger, one of the things I enjoyed on the long drives to my grandparents' houses for Christmas was seeing the country houses that put lights out for decorations. It broke up the monotony of the drive. Then, later when we lived in another country, and therefore, didn't drive down to be with family, we would load up in the car and drive around neighborhoods looking at all the lights.
We tried to do that with our children, too, but it seemed harder and harder to find groups of houses with lights. So, we resorted to visiting a couple of houses that always outdid themselves in decorating, and we'd go through a drive-thru light display sponsored by an area church.
Now that we're empty nesters and taking care of my parents, we're on the hunt for lights in a new area. We mentioned we were going to look at lights to our pastor and he said, "If you find some good ones, let me know. We're having a hard time with that, too."
That got me thinking, "Where are all the lights? Where have they gone? Why have they disappeared?"
Recent Trends
I've noticed a trend in recent years that has fewer and fewer people putting out Christmas lights and decorations.  I'm sure they all have a reason…It costs too much; I don't have time; I'm physically unable to do that now; It's just not important to me anymore.
It saddens me that we have come to the place where Christmas seems more about WIIFM, (What's in it for me) and competing to buy the best gift.  More than losing lights at Christmas time, though, it concerns me greatly that this is an outward sign of the decline of celebrating Christ's coming in general.  If your focus is on the fictional and imaginary, schedules and deadlines, parties and attire, have we become so inundated as believers, that the Church looks no different from the general unsaved populace?
We've spent the last two Christmases serving our family and striving to provide some of the traditional items. We've scaled back, though. Limiting the decorations and baked goodies has given us time to be present and provide practical help in other ways. (Think house upkeep and renovations for aging parents here.) We managed to get the lawn angels and two lit lawn candle ornaments out this year. Simple, but still putting out the reminders of the reason we celebrate Christmas.
Living Lights
We are to be living lights so that those around us can see the Light of the World, Christ, through us. So, I ask, "Where have all the lights gone?" Is it time to plug your life back into the Source and represent Him well instead of remaining hidden in the dark?
This year, we were thankful to find a local attraction to help satisfy our craving for Christmas lights. We started hearing about this display, but nobody had an exact address. The conversation would sound something like, "Oh, it's close to _____ and ____ streets. Don't worry. When you get that close, you'll see it."
Wow! Were they right! You didn't need an exact address. Once you got close, you knew where to go.
The display is so large you actually park and walk through the numerous themed display areas. We were able to go twice with different guests. The second time, Mark and I both noticed items we missed the first time.
There are a few spiritual principles that are depicted by the above. One, if you are allowing Christ to shine through you, people will notice even if they aren't right in front of you. Two, as we grow in Christ, we will study the same Scriptures and yet notice something we hadn't before.
In our case, mostly we hadn't looked up to see items on the second floor.  Keep your eyes fixed on The Light, The Author and Perfecter of your faith, so He can show you the things you've missed in the past.
We hope that in the transition of the old to the new year, you find yourself positioned in Him and ready to walk out what He has for you. Happy New Year!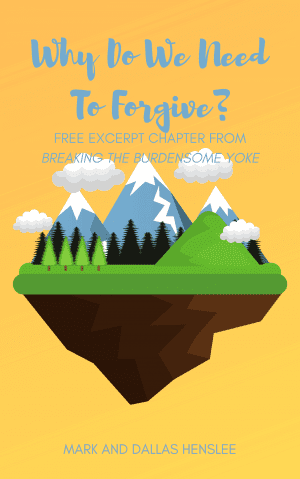 Finding Forgiveness
Get your complimentary PDF excerpt of the Forgiveness chapter from Breaking the Burdensome Yoke.
Delivered straight to your email.
Enter your email address above to receive new blog content and devotional thoughts bi-weekly!