Many refer to April 1st as April Fool's Day and plan practical, and sometimes not so practical, jokes and pranks. We prefer to think of it as just another day in our journey with the Lord. This April 1st, we were closing up the trailer and starting our several thousand mile trek across the country. The plan was to make it to Magnolia, Arkansas this day.
Before heading out, Mark was checking the air pressure in the trailer tires and, in his normal way, was conversing with the Lord. "Lord, I don't really know the history of these tires. I don't know how old they are, how many miles they've traveled, or how long they've sat. I trust You that we'll be okay as we travel." He didn't have a response in the moment (not unusual), so we proceeded to move forward with preparing to hit the road.
About an hour down the road, while we were still south of Houston, there was a big POW!!!! Dallas looked at me with great concern and said, "What was that?" Mark responded, "We just blew a tire on the trailer!"
Safety in the process
There was never any sense of instability or loss of control. We were on a divided highway and right there beside us was an extra lane for accessing a farm-to-market road. Pulling to the side, we parked, safely out of the flow of traffic.
After we pulled over to the shoulder, Mark began to assess the extent of the damage. Dallas started notifying family and prayer warriors. We were almost directly in front of a church, so she was thinking, we'd probably receive some help and attention from that direction.
The Lord had other plans (that's frequently the case). A gentleman that had time, tools, and knowledge to assist came up from behind and stopped to help. Mark talked to Charles while they were dealing with the destroyed tire, the body damage, and the spare. Charles served as a Marine, has a family with 2 young daughters, and an awareness of God. So, in a fashion we've become accustomed to, God helped us through Charles and put us in Charles' path to hear more about journeying with God.
After getting the spare on, we pulled into a gas station at the next exit to make a plan. The spare wasn't holding air well, so we knew we needed to arrange time at a tire shop. He called to see if a local shop had the tires we needed. The man on the other end of the phone said they only had three of the name brand but four of an off brand. We asked to be signed in and that he reserve the four tires to replace ours.
The Provider speaks
Not knowing the history of the tires, and having a blowout so soon after conversing with the Lord about them, we knew that we needed to replace all four tires. As Mark was checking in at the tire store, he saw the name of the off-brand tire. He internally chuckled at the name and saw that they were $50 per tire less than the name brand; a form of provision.
We also got bumped up in the wait line, reducing the time expected to get the tires changed. It may have had something to do with the fact that we were blocking a large portion of their parking lot with our rig, or it was just God's way of smiling down upon us.
Every time we look at the tires on the trailer we get a reminder as we see in all caps, PROVIDER. Isn't it just like God to put His name on a set of tires.
As we shared this event, one of our board members said that the tire was made by Taskmaster. We have different takes on why this is significant. Dallas' perspective is that the Lord is the best task master because He knows every part of our being–including our physical and emotional limitations. Mark was impressed with the fact that if we are about the task(s) set forth by our Master, He will provide.
Unexpected answers
We never really would have thought that a tire blowing out could be an answer to prayer, but it was. God knew we needed four new tires. He knew we needed safety so He prevented the revelation from happening in a major city and kept Mark from losing control of the trailer at any point in time. He knew we needed assistance and supplies.
He is our Provider. He provided an answer and walked with us through the process. He even helped us get back on the road more quickly than expected.
Yes, the 5th wheel still bears the marks of the blowout, but there is even more evidence of how our Loving and Caring Father carried us through. We know He will continue to provide as we journey with Him.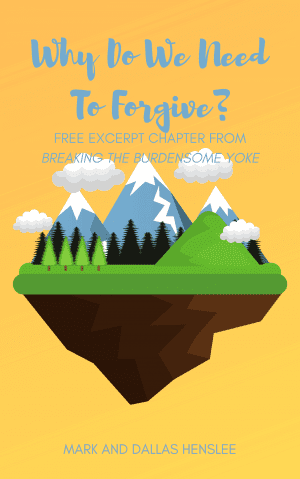 Finding Forgiveness
Get your complimentary PDF excerpt of the Forgiveness chapter from Breaking the Burdensome Yoke.
Delivered straight to your email.
Enter your email address above to receive new blog content and devotional thoughts bi-weekly!