As mentioned a couple of months ago, we have learned to depend on the Lord as THE Provider. This week, I want to share specific provisions for housing.
We sold our house in August 2016 with the expectation that the ministry would be getting an RV for us to live in and travel around the country coming alongside pastors and churches. This would be an example of our expectations not being what God intended.
After selling the house, we camped in the mountains on some family land for 10 weeks, traveled some, housesat, spent the winter in a dome house outside Westcliffe, lived in my nephew's bedroom for 9 weeks, and lived in an office (it did have a bathroom with shower) for 4 weeks. All told, 54 weeks without a stable, or often any, home. Some say we weren't homeless, since we never slept under a bridge or even in the car, but it's as close to homelessness as I care to ever get.
June 2016 A needed mortgage payment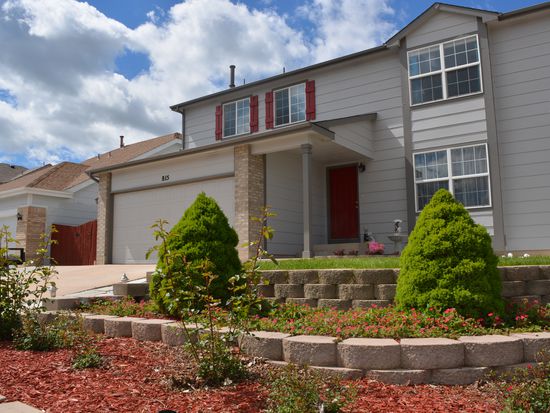 We were in a weird place of transition where we had sold the business but the ministry was still in its formative stage. While most people believed that we were sitting on a boatload of cash from the business sale, that was not the case. In fact, we didn't have money to pay the mortgage for July. Nor did we know where it was going to come from. The house was under contract to sell but the closing wouldn't happen until August.
We attended a conference in our quest to grow and learn more about how to walk in the Lord's fullness. The second day of the conference someone we knew handed me a check during the worship time. I was a bit taken aback not having experienced such a thing before. I opened the check enough to see that it was made out to me and put it in my pocket.
That night, back in our room, I pulled the check out and unfolded it to show to Dallas. To our amazement, the check was for $1,000! This was what was needed to make the mortgage payment for July. The giver was not a wealthy person and we don't know how it was possible to give so much. When thanked, she simply said that the Lord told her to give it.
October 2016 Housing for the winter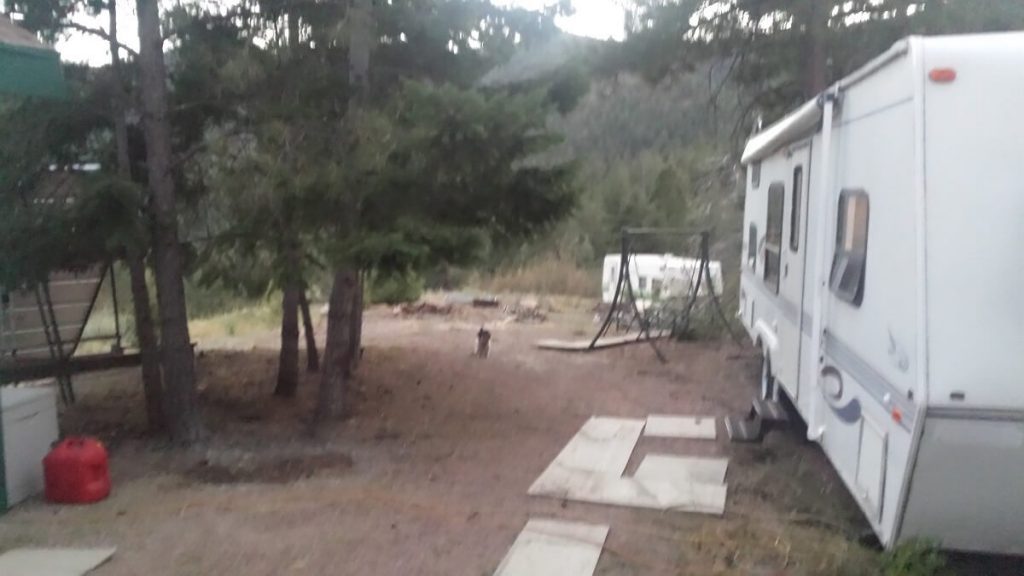 We were living in the mountains for 10 weeks on family property known as The Haven. As the days moved into October, the weather was getting cooler and cooler with each passing week. One morning we woke up and it was 37 degrees Farenheit– inside the trailer! Needless to say, it was a bit difficult to get out of bed that morning.
We prayed, pleading with the Lord, for direction on where we were to spend the winter. We knew that the trailer at the Haven wasn't a feasible option. In roundabout ways, He connected us with the owner of a house outside of Westcliffe that was looking for renters. The house needed some work, primarily a deck rebuilt, so we negotiated to perform the work in exchange for rent since we didn't have money to make a monthly rent payment.
Shortly before the first snowfall, we moved into the dome house for the winter on October 26th. This gave us several months of housing plus put us in the community where we would eventually live full-time.
There were some adjustments to our normal living experiences as we learned how to heat with a wood stove, function in a small kitchen with limited cabinets and no dishwasher, navigate circular stairs, and work on the deck rebuild through the winter. We unpacked a few boxes, though most of our stuff stayed in storage (in five locations across three counties).
In the midst of not knowing which direction to turn, or even if there were options available, the Lord was faithful to make the connections and provide a place for us to live out of the weather and cold of winter.
May 2017 Homeless again (or still?)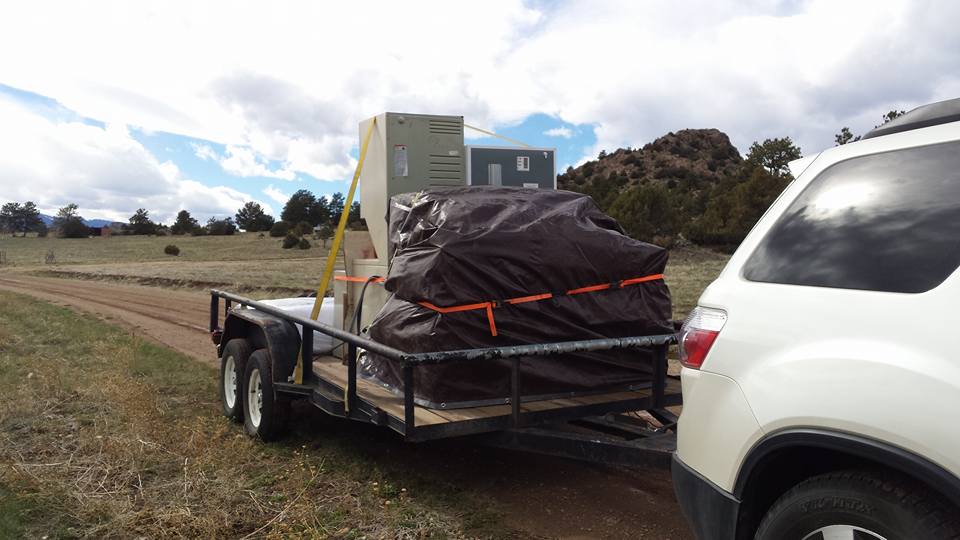 Before the end of April we had to vacate the dome house and move on. Back in storage went the few things we had unpacked and onward we went. Not knowing where, but trusting the Lord to continue to provide for our needs.
The first stop was a couple nights at my brother's house. Then we headed to Arkansas to celebrate our twins' college graduations. While we celebrated, the girls had the discomfort of knowing that going home after graduation was not an option. Even in the midst of uncertainty the Lord provided for our children.
Shanielle was connected with a woman that was renting a room in her house. This arrangement worked out so well that it has been ongoing for over two years.
Danielle got to live for a few weeks in the basement of some of our friends, making a great connection. The Lord then opened up a place for her to rent for several months. Later, through the friend that she lived in the basement, she was connected with a great couple who rented her a room in their house. Again, the Lord made connections through seemingly odd and unusual methods to place each of us where we needed to be living.
As for us, we had the opportunity to house sit for a week upon our return to Colorado after graduation. Then the Lord continued our personal growth plan as we moved into my brother's house for nine weeks, living in my nephew's bedroom. It's just like God to stick a couple of empty-nesters into a house with a two and five year old. As usual, outside of our comfort zone but exactly where we needed to be for that time.
June 2017 Opportunity arises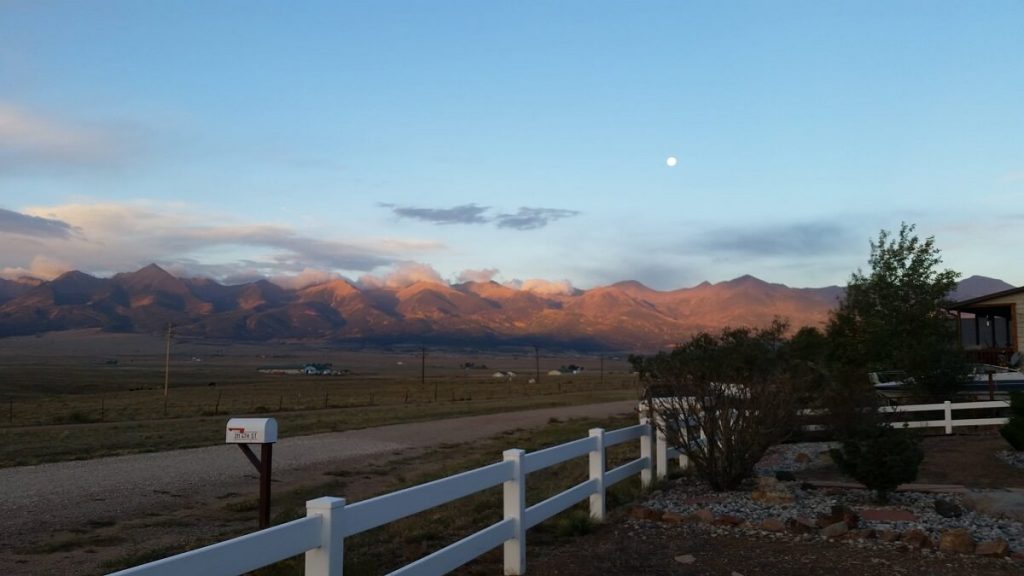 When I sold the CPA firm, part of the deal was an option on the office building at a set price for eighteen months. In May 2017, the buyer of the firm chose not to exercise the option to buy the building. This was a good thing since the real estate market had increased significantly in those eighteen months.
Once the office building was under contract, we determined that we needed to find a stable place to live. We were looking for a place to rent as we didn't expect to be able to purchase a house without debt. In the process of looking for a place to rent at a reasonable price, we came across a house for sale. We knew the real estate agent with the listing and talked to her at church that week. It turned out that the house was already under contract.
The realtor called a couple weeks later and asked if we were seriously interested in the house. We said we were and would like to schedule a time to see it. In the meantime, she kept it unavailable for others. We are convinced that this was a work of the Lord as we found out later there were at least three others interested in the house.
August 2017 Home sweet home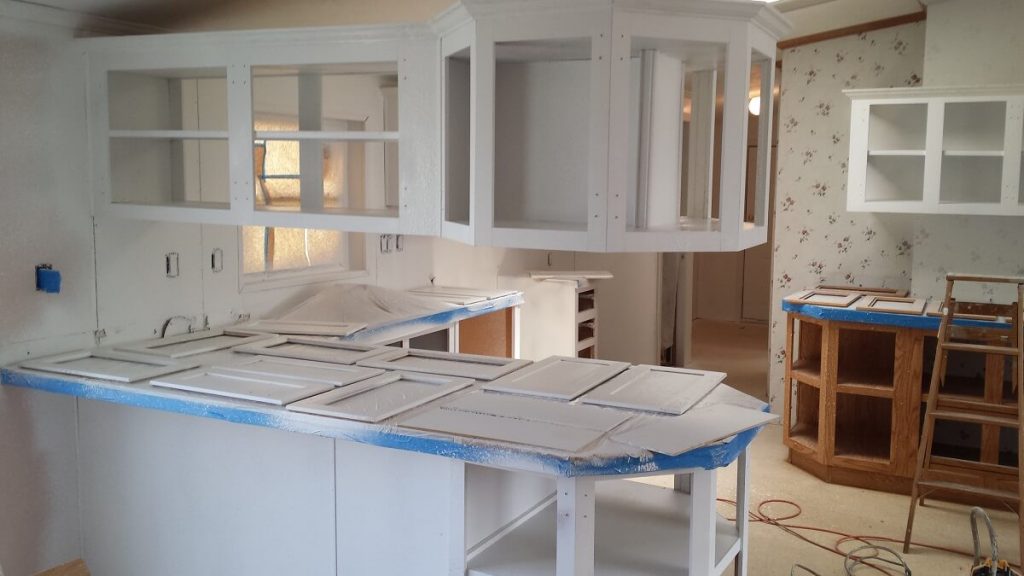 After viewing the house, we negotiated a purchase price knowing that most of the house would need remodeled or at least paint and flooring. The contract was signed in June but the closing was pushed back until late August due to several delays in the sale of the office building. Even through the delays in closing, the seller hung in there with us instead of going with another offer.
It worked out that the equity from the office building was just enough to buy the house and renovate every square foot of it. It's not a large house, just two bedrooms and two baths, but a good size for us. Another example of the Lord's great provision – a place to live debt free. As a bonus, we have an amazing view out our front windows.
We are continually in awe of the Lord's mighty, and small, provisions. As you live life, I encourage you to walk in faith, knowing that no matter the circumstances, the Lord is there and providing as we trust Him.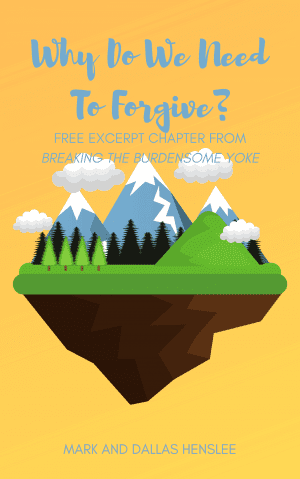 Finding Forgiveness
Get your complimentary PDF excerpt of the Forgiveness chapter from Breaking the Burdensome Yoke.
Delivered straight to your email.
Enter your email address above to receive new blog content and devotional thoughts bi-weekly!