During our trip to Bangladesh, we were privileged to attend a few of the youth meetings.  During one of these evenings, the participants were engaged in their Bible memory challenge.  Mark and I were both very impressed as several of the students stood and recited a portion of 1 Corinthians 13.

If I speak in the tongues of men and of angels, but have not love, I am a noisy gong or a clanging cymbal. 2 And if I have prophetic powers, and understand all mysteries and all knowledge, and if I have all faith, so as to remove mountains, but have not love, I am nothing. 3 If I give away all I have, and if I deliver up my body to be burned, but have not love, I gain nothing.
4 Love is patient and kind; love does not envy or boast; it is not arrogant or rude. It does not insist on its own way; it is not irritable or resentful; 6 it does not rejoice at wrongdoing, but rejoices with the truth. 7 Love bears all things, believes all things, hopes all things, endures all things.  (1 Corinthians 13:1-7, ESV)

All You Need is Love
In Western society, we have romanticized the concept of love, particularly that of being in love or falling in love. So much so, that we have placed the emphasis on how we expect to feel in such a relationship, and once the feeling is gone, we falsely equate it with love being lost.

Love is such a desired commodity in this perspective, and it is often given to the one that outperforms any competition. But wait! Is that really love?

Is love free or does it cost – sometimes dearly? Unfortunately, the answer isn't as simple as a yes or a no. Like life itself, it is more complex. Love can be given freely. Many of us receive love from parents, siblings, significant others, spouses, children, and even close friends. Yet, in such relationships, love may bear the weight of disappointment and loss, in which case it is very costly. We take the risk of being hurt and pay the cost because the relationship is worth it. For more on unconditional love, click here.
I Can't Help Falling in Love
I know we are used to the concept that God can use people and circumstances in our lives to teach us things, but sometimes those lessons are generated by our pets. I have a very tender heart towards our pets, and God has used that to help develop this lesson for me. Love is simultaneously free yet costly.

We have two little dogs that we consider part of our family. Duchess is a Shih Tzu and Ginger is a Cocker Spaniel-Bichon Frise. Duchess is getting more frail in her old age; having difficulty seeing, hearing, and eating. We have been making accommodations to assist her like building a ramp so she doesn't have to navigate stairs, pureeing her food, and giving her medicine to ease any chronic pain she may be experiencing. These accommodations take extra time and energy, and yet, because we love her, we are willing to make the sacrifice.

There are days when my emotions get the best of me and anticipatory grief sets in; I know what's coming, eventually. Those are the days that I hold her, pet her, and count the cost of having loved her well. Grief is a cost of love, for if you haven't loved, you will not experience the pain of loss.

There are other times that I have given love freely to have it cost dearly, as I'm sure you have. When your peer seeks retribution….and you decide to let revenge belong to God alone. When a friend betrays you….and you decide to be a loyal friend even if they haven't earned it. When a friend wounds you with the truth….and you purpose to walk through the difficult things and reconcile. When a loved one passes….and you choose to trust God to be your Comforter.

Because You Loved Me
We encounter the need to give love freely at great personal cost frequently in our ministry at Blue Fire Legacy. We have seen a small glimpse of what it is to love as God loves. Sometimes, we get to rejoice in the fruit after all the hard work, and other times we must balance accountability, love, truth, and grace.

The most costly display and gift of love offered freely was our Savior's intense suffering and death on a cross.

We look away from the natural realm and we fasten our gaze onto Jesus who birthed faith within us and who leads us forward into faith's perfection. His example is this: Because his heart was focused on the joy of knowing that you would be his, he endured the agony of the cross and conquered its humiliation, and now sits exalted at the right hand of the throne of God!  (Hebrews 12:2, TPT)

He endured the cross for the joy set before Him. The promise of being able to enter into eternal relationship with those of His Children that choose to receive the gift of Salvation.

So, how do you love? Are you willing to go all in despite the risk, added stress, and complications it might create along the way? Are you willing to love freely even in the face of extravagant cost?

13 So now faith, hope, and love abide, these three;
but the greatest of these is love (1 Corinthians 13:13, ESV).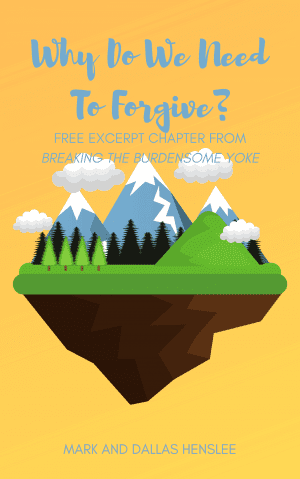 Finding Forgiveness
Get your complimentary PDF excerpt of the Forgiveness chapter from Breaking the Burdensome Yoke.
Delivered straight to your email.
Enter your email address above to receive new blog content and devotional thoughts bi-weekly!