Have you ever hidden money in a secret place?  Maybe you have a stash to help save for an extravagant gift or vacation. Perhaps it's more practical like an emergency fund.
Clay Pots
Last year,  I had the privilege of traveling to Israel. At one of our stops we viewed the Qumran cave where the Dead Sea scrolls were found. The scrolls were not being searched out when they were discovered. They remained hidden and preserved in clay pots until shepherds looking to determine how deep a hole was where a sheep had fallen.  When they dropped a rock to help determine the depth, the rock hit a clay pot which piqued their curiosity. After archaeologists looked more closely, they found additional lidded clay jars containing scrolls.
As I listened to the account of the discovery, a thought occurred to me; there are various Scriptures comparing our human bodies to earthen vessels.  I decided to look into that further and discovered more verses than originally came to memory.
I will give you the treasures of darkness and the hoards in secret places, that you may know that it is I, the Lord, the God of Israel, who call you by your name.

Isaiah 45:3
But now, O Lord, you are our Father; we are the clay, and you are our potter; we are all the work of your hand.

Isaiah 64:8
For I want you know how great a struggle I have for you and for those at Laodicea and for all who have not seen me face to face, that their hearts may be encouraged, being knit together in love, to reach all the riches of full assurance of understanding and the knowledge of God's mystery, which is Christ, in whom are hidden all the treasures of wisdom and knowledge.

Colossians 2:1-3
We Have This Treasure in Jars of Clay
The concept of a potter molding and shaping the container is not a difficult analogy. Likewise, the imagery of pottery which can become unclean to describe fallen, sinful mankind seems easy to follow.  Our Creator formed Adam out of the ground. Scripture speaks of Him forming our soul to continually emulate His character and values, thus He is the Potter. But, have you ever considered that the type of material is also significant?
"According to ancient Jewish ritual law, vessels made of pottery are easily made impure and must be broken. Stone, on the other hand, was thought to be a material that can never become ritually impure…" Dr. Yonatan Adler https://www1.cbn.com/cbnnews/israel/2017/august/archaeologists-unearth-roman-era-stone-water-pots-near-biblical-cana
Some of the treasures hidden included coins or important documents simply placed and stored in clay pots for safe keeping.   Sometimes, the pots were buried as an additional security measure. However, placing the documents inside helped to prevent deterioration due to exposure of the elements.   I draw a spiritual correlation here. As we store the treasure and documentation of God's Word in our hearts and memory, our exposure to difficult circumstances has less degradation because of the faithfulness of God's character and promises.
Thus says the Lord of hosts, the God of Israel: Take these deeds, both this sealed deed of purchase and this open deed, and put them in an earthenware vessel, that they may last for a long time. For thus says the Lord of hosts, the God of Israel: Houses and fields and vineyards shall again be bought in this land.


Jeremiah 32:14
Our Treasure is Christ
We learn more of Who He is by studying His life and Words. Jesus spoke out Scriptures. As Believers, we have the ability to hide His word in our hearts. We continue to grow in relationship with Him by conversing with Him in dialogue (praying). He continues to instruct us today as we listen for His Voice. His Treasure is alive; housed in us.
…That according to the riches of His glory he may grant you to be strengthened with power through his Spirit in your inner being, so that Christ may dwell in your hearts through faith—that you, being rooted and grounded in love, may have strength to comprehend with all the saints what is the breadth and length and height and depth, and to know the love of Christ that surpasses knowledge, that you may be filled with all the fullness of God.


Ephesians 3:16-19
Clay is a destructible material which cannot house its treasure forever.  Just as the lid was broken to discover the Dead Sea Scrolls, our bodies (earthen vessels, clay pots) host the Treasure of God's Spirit temporarily.  At the point of death, our spirit and physical body are separated. Our spirit living eternally in Heaven with Him based on our acceptance of Christ as Lord and Savior and our physical body returning to dust.
But we have this treasure in jars of clay, to show that the surpassing power belongs to God and not to us.


2 Corinthians 4:7-9
What are you storing in your prized clay pot? How does your treasure reveal the power and glory of God? It is my hope that people are able to see the goodness of God reflected in my life daily, and continue to be pointed toward Him in the legacy I leave behind.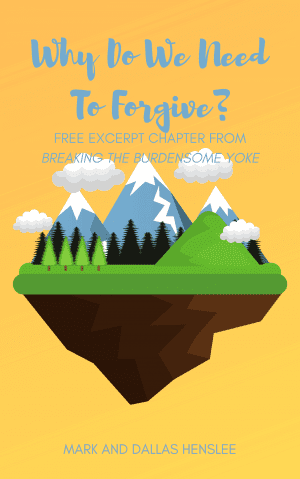 Finding Forgiveness
Get your complimentary PDF excerpt of the Forgiveness chapter from Breaking the Burdensome Yoke.
Delivered straight to your email.
Enter your email address above to receive new blog content and devotional thoughts bi-weekly!