Where does the use of praise banners and worship flags come from?
Yes, flag worship is biblical, although there is no specific Scripture that commands us to use them in worship today.  Think of the flag bearer or standard bearer in biblical times.  
We can even look to Scripture to see God in a position of being the standard bearer.  A standard is not only an emblem but a level of expectation to be attained. God sets the Holy standard and covers His children with the blood of the Perfect Sacrifice, Jesus Christ.  All the rest of us fall short of God's standard and Scripture says He will lift up the standard against those that come against Him (Isaiah 59:19).
Those of us that choose to wave flags before the Lord see a correlation of present day praise banners, or flags, to the tribal banners or ensigns mentioned in the Old Testament.  These banners/ensigns were carried by the tribes of Israel into war.  An ensign was carried or lifted above the heads of all those in the tribe or groups of tribes by the standard bearer. While an ensign could be a large flag, it could also be a large representative emblem made of iron or brass. Today, many see flaggers, singers/musicians, and dancers as those that prepare the way for the remainder of the army that God has called into battle.  Present day application simply takes the praise banners or flags from an identification function or military formation into one of practical worship and spiritual warfare.  
Symbolism of Praise Banners and Worship Flag Color Meanings
Throughout history, flags and banners have been used to set apart groups or establish possession of geographical territory.  Flags call attention to themselves largely because of their placement.  Think of such events as See You at the Flagpole in the United States.  In this case, groups gather around the flagpole on their school campuses and pray together.
God talks to us in symbolism.  To validate this statement, one needs to do no more than to recall the many dreams or visions and their interpretations that occur in both the Old and New Testaments.  Furthermore, Jesus used symbolic language when He taught in parables.  God also embedded symbolism in His covenants and Church ordinances such as baptism and The Lord's Supper.  As He has a history of utilizing symbolism with His creation, flagging seems simply to follow a pattern He established.
Flag color meaning is not specified in the Bible, there are simply traditionally accepted meanings assigned to each color.  Waving a flag often is a physical representation of something happening in the spiritual realm.  Colors and choreographed movements can be a portion of conveying this message.  However, Almighty God is the Creator of color and therefore, interpretation of color should be submitted under His Lordship and not become the primary or sole factor in choosing which flag to wave before Him. 
Ask Him which one He wants you to fly and then be obedient to fly that one even if you would have chosen a different color. For those of you curious about some common interpretations of colors, I've listed a few here, though the list is anything but exhaustive.
Blue: Holy Spirit
Purple: Royalty
Pink: Joy
Red: Covered by the Blood
Orange: Warfare
Green: Healing 
Faith Plays a Crucial Part as We Partner with God 
I realize that this position can be a difficult concept for some, however, in our obedience, we partner with God and His Providential will.  There are many Biblical examples to choose from such as Abraham, Moses, Gideon, Jesus, and the leaders of the early Church. 
Moses chose to partner with God's will and God blessed others through Moses (Ex. 4:20, 7:20, 8:5, 8:16, 10:13, et al).  There are also examples of taking matters into his own hands and the disappointment and discipline that results.  It is imperative that we are partnering with God's will not asking Him to condone ours.
Some have shared they feel an atmosphere shift in the spiritual realm when flags are being employed.  While this observation is valid, please remember that the flags are not the initiator of change.  As we enter into praise and worship, a deeper intimacy with God is occurring, and it is the Presence of the Holy Spirit that evokes all noticeable change. 
Flags are Worship and Warfare Tools
Flags are worship tools just as an instrument, liturgy, or prophetic art.  Waving the flag itself is a visual expression of worship.  When done in a corporate worship setting, it should be done with the purpose of ushering others into the Presence of God.  Flags can be used as a tool of warfare, as well.  Scriptures to support this position:
2 Chronicles 20:21-22, ESV
"And when he had taken counsel with the people, he appointed those who were to sing to the Lord and praise him in holy attire, as they went before the army, and say, "Give thanks to the Lord, for his steadfast love endures forever." 
Psalm 144:1, ESV
"Blessed be the Lord, my rock, who trains my hands for war, and my fingers for battle…"
The battle is the Lord's and was won when Christ defeated death; therefore, we fight from a position of victory already attained by God.
2 Chronicles 20:13-17, ESV
"Meanwhile all Judah stood before the Lord, with their little ones, their wives, and their children… Thus says the Lord to you, 'Do not be afraid and do not be dismayed at this great horde, for the battle is not yours but God's… You will not need to fight in this battle. Stand firm, hold your position, and see the salvation of the Lord on your behalf, O Judah and Jerusalem.' Do not be afraid and do not be dismayed. Tomorrow go out against them, and the Lord will be with you."
This is one of those places where our finite minds and theology meet without the ability to fully comprehend.  The battle is the Lord's, and ultimately, we will enjoy the fruits and spoils of this victory.  However, while we are confined to time, it is ours to partner with Him and report to battle as He assigns us.  We march into battle covered by Him as our Banner.
"And Moses built an altar and called the name of it, The Lord is My Banner," (Exodus 17:15, ESV).
Ways to use flags in worship
Another way banners, flags, and streamers have been used is in celebration.  Modern day, you can see this play out in parades and various sporting events. The same can be done in spiritual expression of praise and worship. Sometimes, we wave flags in celebration and acknowledgement of what God has already done or to celebrate His unchanging nature.
 I like the way this was expressed on Worship Expressions:
Just as we communicate our feelings to our Heavenly Father through prayer, we can also express our heart to Him through worship with banners, worship flags and streamers. A banner can represent God's love, mercy, truth, healing etc… It is also a powerful weapon against the enemy.   "We use God's mighty weapons, not worldly weapons, to knock down the strongholds of human reasoning and to destroy false arguments." (2 Corinthians 10:4, NLT)
As we flag, we are making a statement that applies to the physical and spiritual realms.  In such instances, the color is often an enhancement of the message being expressed to God or a reminder of His Promises acting more as a declaration of standing on His Words and Promises in faith.  Waving a flag while quoting a specific Bible verse is a way of praying the Scripture back to God.
Worship Flags in Public
I first saw worship flags being used at a conference, and I was immediately drawn to them.  Years later, I was privileged to be able to wave worship flags in the same worship center for a different conference.  These are obviously very public settings, and one must have the blessing of leadership to wave in this way. Unfortunately, worship flags have been abused in public settings and there are "horror" stories that often cause leaders to shy away from consenting to have them flown publicly.  If your motivation is for someone to tell you how beautiful your flags are or how talented you are in using them, your heart isn't in the right place to lead in public worship. Honor your leadership and search your heart.
Worship Flags in Private
You may only be able to flag in private or semi-private settings.  Sometimes, the Lord instructs that flags be waved over an individual. Usually, this indicates that the Lord is healing something in their life whether it be spiritual, emotional, or physical.  You do not need to know "why" and all the details. God knows, and He instructed You by His Spirit to wave over them. Be obedient.
The first time I waved a flag over someone it was my "Healing in His Wings Flag" which is a shaped flag.  It has multiple colors and various sizes of panels on this wing flag. I've also flagged over people as they pray.  Some are not even aware that it has occurred when I follow up with them later. Being a servant can mean adding substance or value without being noticed.  I consider that a compliment.
I still recall the one time I tried to tell God why I shouldn't wave over someone and was later grieved by my disobedience.  He graciously gave me another opportunity after my repentance.
Flag Worship before the Lord
We wave flags before the Lord which means we can wave them privately and bring Him pleasure in thanksgiving, praise, and worship.
Lord, because I am your loving servant,
   you have broken open my life and freed me from my chains.
Now I'll worship you passionately and bring to you
   my sacrifice of praise, drenched with thanksgiving! (Psalm 116:16-17, TPT)
I often find that in my time of private worship, God sends the overflow back to me and encourages and strengthens me for having been in His Presence.  I trust that He will do the same for you.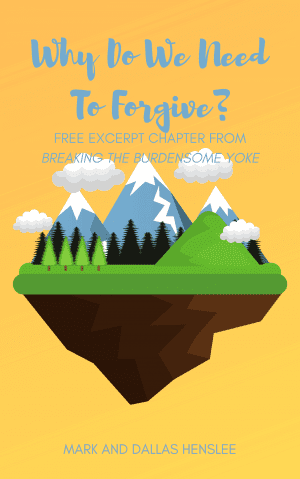 Finding Forgiveness
Get your complimentary PDF excerpt of the Forgiveness chapter from Breaking the Burdensome Yoke.
Delivered straight to your email.
Enter your email address above to receive new blog content and devotional thoughts bi-weekly!