Expectations; we all have them. I know I do. I have expectations about circumstances and situations. I have expectations about myself; what I should do, what I shouldn't do, how I could have done better. I have expectations of others and expectations of God. I especially have expectations of how things will happen, or at least for my plans.
The track record of my expectations becoming reality isn't very good. In fact, God rarely does things the way I expect. It is disappointing at times, it's frustrating, it's hard, it's exciting, and it's unbelievable when He does things far beyond what I could have imagined.
"Sell the house."
Recently, the Lord provided a 5th wheel travel trailer for the ministry. We started remodeling it, fixing it up to fit our needs and updating some worn out or non-working items. During this time, we had the impression to sell our house and God would bless that. After praying and seeking confirmation, in an act of faith, we listed our house for sale.
It wasn't for sale very long before the offers started coming in. Even with the sale of the house, I had expectations. I thought the ideal buyer would be a retired couple. Someone who would love the view, putter in the yard, and enjoy their retirement house. Well, that's not who we sold the house to. Though one of the multiple offers received may have been that couple, we felt like we were supposed to take a different offer.
I also had an expectation of the dollar amount it would sell for. And one of the offers even came up to that amount! But instead, we sold it to the lowest offer. Why would we do such a thing? I can't really tell you why, but we felt like it was God working.
Questions
Back to the travel trailer. We sold the house, so that meant God was going to provide a truck so that we could start traveling and living in the trailer. We had to have a truck to accomplish moving forward.
For several months, I kept telling people, "God's got it". We didn't need a truck yet, at least not until closer to time to move out of the house. By my expectation, the end of October or first of November. I believed that God was gonna come through and provide in a way that He would receive the glory. Many questions, reasonable ones, from friends and supporters. "God's got it." That's what I kept telling them.
As the closing date of the house approached, closer and closer, there was still no truck. The questions kept coming; "Mark, what's the plan?" "What are you gonna do?" "How are you moving the trailer?" "Where are you gonna go?" "What's the plan?" "What's the plan?" "No, REALLY, what's the plan?"
I had thoughts, expectations, and hopes, but I really didn't know how God was going to work things out. All of the questions caused me to wonder if I had missed something. I knew in my heart that God had it. But in my head, it was a battle.
Doubt
Even the backup plans I had for moving the trailer were falling apart. As the closing day approached, there was no truck. The person I thought would move it was out of town and wasn't going to be back in time. The night before closing, at about 10 pm, someone agreed to come tow the trailer to a church parking lot where we could park it temporarily.
Parked with more questions. Not only questions from other people, but a growing number of questions within myself.
The days came and went. It seemed like we would be there forever, parked. We knew that wasn't the truth. But what was God doing? We didn't know. And yet through those questions, through those hard days, I had four lines of a song running through my head.
I believed those words. I knew in my heart it was true. God has been faithful time and time again, and He would be faithful this time, as well. Yet, my expectations were not being met.
I'd given up hope of being with our family for Thanksgiving. I decided we'd just be parked there for another week or two.
The call
Then came the call. Monday, as we were fixing lunch, I received a text from a supporter asking if we were available for a phone call. We were both between client appointments, so we made the call.
That phone call resulted in something I was not prepared for. In fact, I didn't want to accept it as something we could do.
They called to say that during the night, he had an encounter with God, and God said, "Buy the ministry a truck."  That should be thrilling.  This should have excited us, and yet, I was hesitant.  I was thinking, "You guys can't afford to buy a truck. This isn't something that you have to do. I know you love us. Is it really you who's supposed to buy the truck?"
I wrestled with it. Eventually, I said "Okay God, if we can believe you for miracle provisions, then, they can, as well. I believe You will provide for them including what it takes to buy this truck. Okay Lord, we'll walk this out."
They gave us a budget and reiterated their expectation that we get a truck quickly enough to be with family on Thanksgiving day.
The truck
More questions: Where do I look? How do we find a truck in a day? How do we facilitate the deal? What's the plan, God?
Between clients, I started looking online for a truck. I found that among the available trucks, plenty gave me pause for dependability. Then there were the trucks that were $70, 80, or even 90,000+.
However, there was one truck that stood out. I texted the seller and asked if it was still available. Yes, it was. We talked on the phone, with him describing the truck and me asking questions. It sounded like an ideal truck for what we needed.
On Tuesday afternoon, after seeing clients in the morning, we drove three hours to Denver. We spent some time checking it out and driving the truck. It was a really nice truck, in great shape and perfectly set up for towing a big fifth wheel trailer. So with the finances God provided, we made a deal and drove it home, getting home about nine o'clock that night.
Wednesday morning, I went to the courthouse, got license plates and registration for the truck. Then we hooked up the trailer and started heading South to Texas. 27 hours later, 18 of which were driving, we arrived in time to have Thanksgiving dinner with our family.
Wow, isn't that a nice truck! It drives oh so good, handles the trailer wonderfully, and pulls it great. Even with crosswinds, it feels stable. It was the truck we needed, and God knew it. And He provided it!
What a blessing!
Get up and receive
Nowhere in this story did God meet my expectations. I had expected that God would have a truck delivered to our driveway. I know that's weird, strange, and not how things happen, but it was my expectation. And that's not what God did. He did show up, but we had to do something. We had to go get it.
Sometimes in our faith journey, we like to sit back and say, "God, I dare You to come bless me." We expect Him to do it all. But He's saying, "I'll bless you, but I need you to get up. I need you to come and receive what I have to give you." We need to get up and go to receive the blessing.
Is it okay to have expectations? I hope so, 'cause I still have some. But I'm learning. I've learned to hold them loosely. I'm learning to allow God to interrupt my expectations. I've learned to get-up-and-go, or do what I need to do, for Him to come through with the blessing.
What do you do with your expectations? Are you holding fast, or are you giving up on them because they haven't happened? Are you releasing them to God, for Him to adjust and change them?
What will really happen is He'll change you, if you allow Him. I thank God that He has, and continues to, change me. There's the greatest blessing. To be molded into His image as we walk with Him.
Dallas' Addendum
What Mark didn't share earlier, is that unbeknownst to the other, we each had a short portion of the song, Faithful Now by Vertical Worship, running through our heads. Normally, there'd be an indication of that through humming or singing, but there was a silence in the air regarding that reminder from the Lord to us individually.
There is a parallel in laying down our expectations, and how God challenged the expectations of His people in the Old and New Testaments.  We are currently in the season we mark on our calendars to be mindfully thankful for provision and celebrate Jesus' birth.  His birth defied all expectations because He came as a baby rather than as a conqueror. I find it so sweet that He interrupts our expectations with His exceedingly abundant sovereign provisions (Ephesians 3:14-21).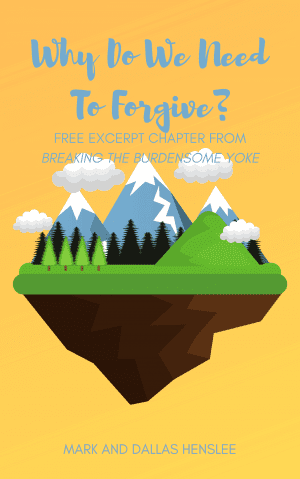 Finding Forgiveness
Get your complimentary PDF excerpt of the Forgiveness chapter from Breaking the Burdensome Yoke.
Delivered straight to your email.
Enter your email address above to receive new blog content and devotional thoughts bi-weekly!