Shortly after we moved to a suburb of Colorado Springs to assist with a church startup project, I met a worship leader that was lamenting that he felt like he had been put on a shelf by God. Ironically, he was teaching me how to be a better worship leader from behind the keyboard at that time.
In retrospect, I think God was protecting him from committing to a leadership role in the church plant and uprooting his life to move to another state just in time for the project to disband completely. However, I do empathize with his feelings of being shelved and not actively used in ministry.
Parked
As I write this memory to share with you, we are literally parked. We had anticipated being able to just keep going without any real interruption to the ministry or our timetable. Boy, were we wrong!
First, in the midst of moving and transitioning from the house to the 5th wheel, we were both slammed with COVID. Mark says losing two weeks of our lives certainly didn't help in the timeline department. I'd have to agree.
Second, because of the timing of illness, we were unable to access our annual networking conference which tends to refuel us emotionally to do the work we do with others. Due to the complete cancellation of the event last year, it has been over 2 years since we have been able to pull away and re-energize through this means.
Third, we are currently stalled in regards to moving forward. It was our intention and hope to be headed to Texas for the winter several days ago. This is obviously not the case, since I stated earlier that we are currently parked. We are in our ministry 5th wheel in a church parking lot awaiting God's provision of a truck, large enough to transport the trailer.
Waiting and Transition
We have not wasted the time, but we are anxious to get moving again. In all candor, some of this is an emotional response. For the second time in 6 years, we've placed the majority of our pared down belongings into storage.
The first time, we were homeless for 54 weeks. This time, there is stability in having our own living space, however, the uncertainty of the future remains the same. The first time, we awoke in a small family/community property camper to temperatures inside registering in the 30s. This time around, we're mostly able to maintain a comfortable temperature overnight. (The exception being last night when the propane ran out and it was 48* F inside).
We have continued to schedule client meetings and have even held an in-person appointment locally in the new accommodations, since moving out of our house. The space is tight but doable. Part of the "put on the shelf" feeling for us, is that we'd like to be doing more teaching and growing that arm of the ministry while helping to balance the emotional toll of the coaching and inner healing work that we offer (most simply call these counseling appointments).
We have also been plugging away at the renovations in the 5th wheel that we had hoped would be complete prior to moving in. We're definitely gaining ground on the long to do list. Mark got the hot water heater working. We only had to go 1 day without it. I'm thankful for the opportunity to take hot showers.
Heartache Even in Obedience
Not only are our hands, fingers, and other parts of our body sore from all the renovation work, but our hearts are experiencing the ache of having to surrender desires. Longing to be with family for Thanksgiving. The desire to have a ministry truck and be independently able to transport the 5th wheel as the need arises. And yearning to be increasing speaking/teaching engagements and decreasing counseling commitments.
And Samuel said, "Has the LORD as great delight in burnt offerings and sacrifices, as in obeying the voice of the LORD? Behold, to obey is better than sacrifice, and to listen than the fat of rams. 1 Samuel 15:22 ESV
As much as God desires obedience rather than sacrifice, it is all too easy for the enemy to start messing in my thoughts when I'm walking in obedience but struggling with the sacrifice required.
"Haven't you done everything He asked; then why are you still here (aka stuck)?"
"What did you miss or leave undone?"
"Does He really love you enough to provide what you've asked for?"
"What you do doesn't matter; you're easily overlooked."
When the enemy does that; I have to be alert enough to take every thought captive and evaluate it against the truth of Scripture.
Back to the Beginning
See, the thing is, in being obedient, there is often an element of surrender. Surrender feels very much like personal sacrifice. If we are willingly sacrificial to the point of obedience, there is an expectation that He'll bless such actions. That He'll shower us with favor, and even "unstick" us. Conditional obedience comes from skewed heart intent. An attitude of, "I'll do this because if I do, He'll do that." Usually something we deem to our benefit. God chooses to bless His children, but He does so in a way that brings Him glory rather than in a way that enables an entitlement spirit.
Getting back to our circumstances and surrendering from earlier….While we had come to terms with the likelihood of not being with family for Thanksgiving, and even remaining stuck until the first part of December, God chose to write the story another way.  He honored the willingness without requiring it of us.  Be sure to read our next blog on expectations, for more of the story.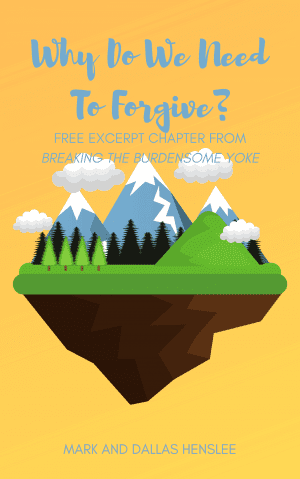 Finding Forgiveness
Get your complimentary PDF excerpt of the Forgiveness chapter from Breaking the Burdensome Yoke.
Delivered straight to your email.
Enter your email address above to receive new blog content and devotional thoughts bi-weekly!