I'm generally a selfish person, have been all of my life. When I was a young kid, I would throw temper tantrums when I didn't get what I wanted. It didn't matter if it was a particular food (I was one of those picky eaters), or the ability to play with what I wanted, or just to be alone (I'm a natural introvert). I could throw the biggest, ugliest tantrums any little kid has pulled off before. My mom was a saint for having to deal with me, and she did it with such grace and love.
As an adult, my tantrums look different, but are still there. They are generally more internal than external now. I've previously shared about some of my "conversations" with God where things were not as I expected or wanted. Much like my mom, He listens and continues to love me, even in my ugliness.
Sick to death
Recently, I battled through a bout of the virus that has plagued the world the last couple of years. I ran a fever for 14 days, my body did things that are not normal or right, I couldn't think straight, reading wasn't possible, my brain and body did not work properly, and generally, I felt horrible.
Unfortunately, Dallas was also sick so we pretty much had to fend for ourselves. Normally, we take care of each other when one is ill. Those two weeks were absolutely miserable. Fortunately, our church family brought food and drinks, and helped as best they could.
I don't do sick well. When I don't feel good, I tend to become very self focused and needy. This took that to another level. In the midst of the battle, I told the Lord that was enough, either take me home or heal me. I wasn't worried about Dallas or my kids or anyone else. I just wanted the suffering to end. In effect, I was throwing another tantrum.
Out of that time of suffering, I've come to a new understanding of what it means to live life sacrificially. In Philippians 1:21, Paul says, "For me to live is Christ, and to die is gain." I'm still learning what he meant when he wrote this. To live life for Christ is not a natural outflow from my human nature. However, we are called to live in the supernatural, therefore we need to learn to live as a living sacrifice.
No fear of death
We are assured of death in this life. It's something that is guaranteed for all of us. However, there is a second death that we can avoid. The only way to have eternal life is through Christ Jesus. There are a lot of good sounding theologies that provide alternative paths, but only one is the way. Even though death is certain, we don't need to fear it, if we are in a right relationship with God.
I don't have any fear of death. In fact, the thought of eternity with my Lord is very appealing. I don't look forward to the process of dying, but the after-life is exciting to think about. This is the part that Paul is talking about when he said "to die is gain". The assurance of salvation and eternity is a great blessing.
It's the living part of life that I sometimes struggle to handle well.
Hardship is going to happen
Nowhere in Scripture do I find a promise of an easy life after we receive Christ as our Savior. In fact, I see multiple passages that tell us to expect trials, tribulations, and hardship (see James 1:2-4, and Romans 5:3-5 for two examples). We are to face these hardships in the Lord's strength, and grow through them. They should build our endurance and character.
Paul talked about his thorn in the flesh that he struggled with for years (see 2 Corinthians 12:7-9). If the apostle who wrote a large chunk of the New Testament wasn't exempt from hardship, why would we expect to be?
Too often, we just want to give up in the midst of our trials. I know I did when I was sick. But the reality is that we shouldn't be living for ourselves. Therefore, we need to change our focus from us to the Lord and those around us.
To live is Christ
Paul surrendered his life, including his rights, to live as the Lord directed. This is not an easy thing to do. It requires great sacrifice of self. He was willing to "become all things to all people, that by all means I might save some." (1 Corinthians 9:22b) That's true selfless living. That is to live completely in Christ.
I don't know about you, but I'm still working on getting to a fully surrendered life. I'm learning and growing. Some days, I do better than others. I've made strides in the process, and yet, there is more to change.
My life objective for many years has been to be Christ-like. I had no idea what I was committing to when I made that decision. The hardships of the past years have seemed insurmountable in the moment, and yet, I can look back and see all the good that has come from those hard times. Hard does not equal bad. In fact, many of the best things come through hardship.
For me, as a husband, part of living a sacrificial life is to love my wife as Christ loved the church. The instructions found in Ephesians 5:25-33 are often overlooked in our attempts to be the head of the household. Jesus often demonstrated leadership by serving those he led. We need to be doing the same.
Committed to a sacrificial life
I am committed again to live life completely surrendered to the Lord. For me to live is to put others before myself, to do things that I don't want to do because the Lord tells me to do it, to accept that it's not about me. My life is the Lord's, not my own.
I know I will fall short at times but that doesn't mean I'm not going to strive for the goal. For more about living a life surrendered check out a sermon I preached here.
How about you? Are you willing to put yourself aside and live surrendered? I encourage you to join me in the journey. It's hard, but oh so good.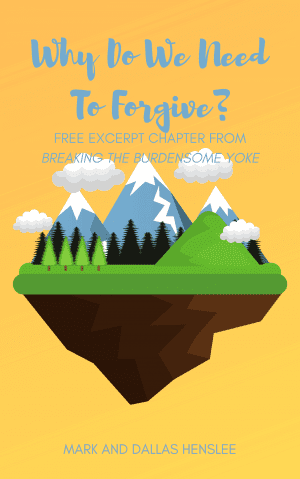 Finding Forgiveness
Get your complimentary PDF excerpt of the Forgiveness chapter from Breaking the Burdensome Yoke.
Delivered straight to your email.
Enter your email address above to receive new blog content and devotional thoughts bi-weekly!