We all have opinions on things. I have lots of opinions. Some of them are probably worth something and others are mere thoughts without much merit. Yet, we live the majority of our life based on our opinions of how things should or should not be done. What is right and wrong. How we think things should be.
When we were in the process of starting the ministry back in 2015, I had things mapped out and lots of ideas of how it was going to work. I also had a few strong opinions. We would have an RV that allowed us to travel to the clients. The building at Legacy Heights would be built relatively soon allowing for a place to office and ministers to retreat. The buyer of my CPA firm would be successful and we could live on the residual payments. It was going to be good.
By August of 2016 when we sold our house, we were faced with where to live. Instead of having an RV as I had expected, we had nowhere to go. I would tell people that God would take care of us. A relative point blank said, "Seriously, where are you going to live?" For some reason, they didn't think homelessness was a good answer.
There were people who would send us links for various RVs. Many of these qualified as campers, and others simply looked unlivable, let alone drivable across the country. This was also during the time that tiny houses were being promoted and we had plenty of people encouraging us to get a tiny house to put on Legacy Heights. Good, well meaning people that love us. Yet, their ideas were not in line with the vision we believe God gave for the ministry.
I had plans
I used to have a five year plan and a ten year plan along with short-term plans for what I wanted to accomplish in life. My plans were generally built around what I wanted or thought would be good.
Then one day God got my attention. He asked if I was willing to give Him my plans and, in exchange, live completely dependent upon Him. That was not an easy decision to make. It was rather painful at the time and even continues to be difficult as we walk out the process of life in His ways.
Today, instead of a five or ten year plan, I normally have a general idea about what life may look like in the next one to three months. Sometimes we get to plan an activity or trip further out but not often. It's not a normal American lifestyle, but the Lord has proven to be amazing as we journey with Him.
Our thoughts versus His thoughts
It is important to use our brains and reason. After all, God did create us with a mind to think and process information. However, we don't want to get stuck in our limited understanding and reason. We don't want to miss God when He doesn't make sense to us.
Isaiah 55:8 says, "For my thoughts are not your thoughts, neither are your ways my ways, declares the Lord." We often struggle with understanding God's thoughts and ways. They are so different from ours, and so much better. The next verse tells us why. "For as the heavens are higher than the earth, so are my ways higher than your ways and my thoughts than your thoughts."
Sometimes what we think of a situation is irrelevant. I'm yet to have the President of the United States call me up for my opinion on anything. Believe me, I have opinions that he needs to hear, but he still hasn't asked me for them. Why not? Because I'm not in a position of trust, nevermind that he doesn't even know my name.
I also don't necessarily have all of the information to be able to rightly assess the situation. God sees everything, yet I see very little. My perspective is very limited along with my knowledge and understanding. I like to think that I know it all, but really, I don't (shh, don't tell my kids).
Hearing clearly
When God speaks, we have a tendency to hear what we want to hear. We may embellish that dream we had, or interpret the word received from the limited perspective we see. Our desires or fears can get in the way of hearing clearly everything that He is saying.
Confirmation with other people can be very beneficial. Proverbs repeatedly tells us to seek wise counsel (Proverbs 11:14, 12:15, 15:22, 19:20 and 24:6). Unfortunately, sometimes that Godly man or woman that we look up to is giving their opinion and not God's. It's common for even our trusted advisors to have limited perspective that distorts their input. We need to be careful with how much trust we put in the words of another person.
Ultimately, it is God's opinion and Word that matters. What we think or want is irrelevant in our journey as Christ followers. We have to be willing to sacrifice our everything to be successful in taking up our cross and following Him.
Is God asking you to trade your plans for a life fully dependent upon Him? Five and a half years into my journey of laying down my plans, I can say, it's an adventure that I don't want to ever miss out on.
"Many are the plans in the mind of a man, but it is the purpose of the Lord that will stand."

Proverbs 19:21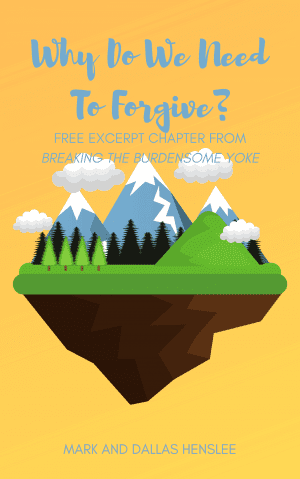 Finding Forgiveness
Get your complimentary PDF excerpt of the Forgiveness chapter from Breaking the Burdensome Yoke.
Delivered straight to your email.
Enter your email address above to receive new blog content and devotional thoughts bi-weekly!