As I was waiting for our luggage to arrive in the baggage claim area, I looked up and saw a man with a mustache and tattoos all over his neck and head. I realized after looking a bit longer, that it was a face hood/gaiter mask. It made me immediately think of how easy it is to look one way on the outside and completely different inside.
In our ministry, we teach about markers. Usually, we are referring to something in the spirit realm that makes you an easier target for the enemy. We share that this concept is a twisting and perversion of the mark that God put on Cain as a protective identifier.
In current times, there is great discussion about what constitutes the mark of the beast referenced in Revelation. In addition, there are debates as to whether we are currently being conditioned to more easily agree to receive the mark.
As Christians, there is reason to resist the mark of the beast, but we are to be marked. The marks may be born physically on our bodies from being tortured for simply proclaiming Christ as Lord, or it could be a more subtle mark as people realize there is something different about us. What is inside shines through and impacts those around us in thought, in word, and in deed.
Galatians 6:17b says, "…for I bear on my body the marks of Jesus."
Reflections of Color
I have a pair of flip-flops, or slippers if you prefer, which are decorated with cut plastic beads that sparkle.  They're pretty to look at, but when the sun catches those sandals at just the right angle, it shines through the beads and projects a kaleidoscope effect on nearby walls and various surfaces.  Beauty is then infused with joy.  Of course, I play with that kaleidoscope effect when it happens and make the colors dance just for the fun of it.  The light accentuates the beauty.
During our ministry trip we had the opportunity to spend a few hours at the beach. While we were enjoying ourselves on the beach during our day of rest, I noticed how the light in the sky accentuated the color variations in the ocean. Clear, turquoise, blue, dark blue with precision demarcations of where each color started and stopped. Then the clouds rolled in and the dark sky impacted the water's beauty. Suddenly, all the water looked grey and blah.
That can happen to us, too.  We are called as salt and light to the world, and we try.  We give it a valiant effort until some storm comes rolling in.  Suddenly, our disposition isn't so care free and sunny.  We're moody or explosive around others, and we start to look blah and not so attractive to those around us.
Every good gift and every perfect gift is from above, coming down from the Father of lights, with whom there is no variation or shadow due to change. James 1:17 ESV
God does not vary depending on His mood. Therefore, as we become more Christ-like, it stands to reason, that we would be able to more consistently, without variation, allow His Light to shine from us.
Allowing His Light to Shine Through Us
When we submit ourselves to Him and allow His Light to pass through us, consistency, an unoffendable spirit, and truthfulness are characteristics we display. We put off the old or false self.
Do not lie to one another, seeing that you have put off the old self with its practices and have put on the new self, which is being renewed in knowledge after the image of its creator. Colossians 3:9-10
I can only assume that the man under the hood looks completely different underneath.  For some, this disconnect or contrast like the mask versus reality is how they perceive the church.  In other words, they can't get past the outward appearance to see if there is anything attractive. Then, they use this as an indictment against us.  They see what is most obvious on the outside, because we have not put away the old self adequately.  
We need to submit ourselves to the purifying fire of the Holy Spirit so that those that have accused us of being false and disingenuous see the love of God flowing through us.  Scripture says they will know us by our love.  Where do you have the opportunity to share love with those that are hard to love?
Do We Accurately Reflect Christ?
When others look at us, do they see Him? My prayer is that they not only see Him, but that they also feel the fruit of the Spirit, especially love.
But the fruit of the Spirit is love, joy, peace, patience, kindness, goodness, faithfulness, 23 gentleness, self-control; against such things there is no law. Galatians 5:22-23 ESV
So now faith, hope, and love abide, these three; but the greatest of these is love. 1 Corinthians 13:13 ESV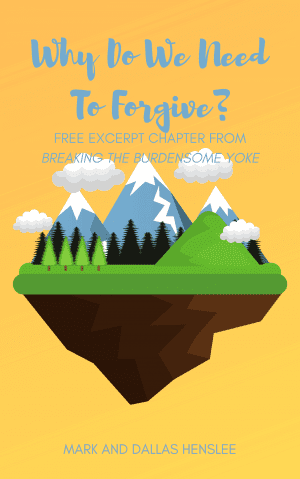 Finding Forgiveness
Get your complimentary PDF excerpt of the Forgiveness chapter from Breaking the Burdensome Yoke.
Delivered straight to your email.
Enter your email address above to receive new blog content and devotional thoughts bi-weekly!