Have you ever noticed that when we have something taken away that the importance of it increases? Some of us enjoy being around people and socializing. The past three months we've been living in a weird world of social distancing and the pleasure of hanging out with people has been greatly hindered. Zoom calls are not the equivalent of being in the same room with someone. When we miss something, it becomes more precious.
One Sunday morning I was just giddy as I wrote our tithe check. I definitely met the definition of a cheerful giver that day. You see, we had several weeks in a row with no income, and therefore, no tithe to give. It struck me just how much I missed giving and the joy that it brings to give back to the Lord.
We generally tithe each week on that week's income. While we should always be giving cheerfully, when the opportunity is taken away, it becomes that much more important to us.
An act of worship
Many Christians today don't want to talk about giving because somewhere along the line they were manipulated or guilted into giving instead of being taught the truth about our finances. What a grievous position to be placed in by a leader of the church.
The truth is that giving to God is to be an act of worship. The amount isn't as important as the heart of worshipping the Lord by giving back a portion of our possessions to Him. I don't give because I have to or because I expect something in return. I give because I love and adore my Lord.
Dallas likes flowers. She knows when I buy flowers for her if it was to make up for a mistake, an attempt to gain her affection through the purchase, out of obligation because of the date on the calendar, or if it was simply an act of love. Regardless of my motivation, she will receive the flowers. However, when she feels my love in the gift, she cherishes the gift and the giver (me) more. Motivation matters.
As we give, the Lord knows our motivation. When we give out of our love for Him, there is a sweet fragrance in the offering. He is able to receive the gift with pleasure, and we in turn have great joy in the giving.
Owners or stewards
We like to think that we own stuff, and the more stuff that we own, the happier we will be. My experience has been that when I thought I owned something, it generally owned me. The house requires maintenance, the car eats money for gas and repairs, the toys don't seem as fun as they used to be. The stuff that I thought would make me happy might bring temporary pleasure, but eventually requires more from me, or degrades, or loses its appeal until it ends up just another thing.
There is a house that has my name on the title of it; a car and bank accounts that legally show me as the owner. Stuff that I call mine. But the truth is that I'm really a steward of these things and not the true owner.
As a steward, I view things differently. It's like being a manager of a business. I want to do my best to take care of my boss's business. I strive to succeed and am careful with the decisions I make. I'll talk with the owner to find out what He wants me to do in each situation that I haven't previously received instructions. His best interest is my first thought.
Hard work is important, but don't think that because you work hard you've earned all that you receive. The Lord's hand of blessing is far greater than we could ever achieve through hard work. When we acknowledge the Lord's ownership over our time and possessions, we are able to shift from owner to steward. We are the instruments that the Lord chooses to use to supply all of the needs of those who belong to Him and those who are searching for Him.
Freedom to give
Since we don't really own what passes through our bank accounts, it is really easy to give as the Lord directs. In fact, we get to be a part of His blessing for others, and that brings us joy and pleasure.
Over the years, we've had fun figuring out how to get gift cards and cash to someone without them knowing where it came from. Whether that was to drop it into a woman's purse, hide it in a place they would find it at their house, or various other ways, we've anonymously been the instrument for God's provision and blessing for someone in need.
Recently, we were impressed to give some money to help feed starving pastors in a third world country. God arranged the connections to the ones in need. We got the joy of knowing that these pastors would be able to eat in the midst of lack.
We've also learned how to be the recipient of the Lord's provision and blessing through other's gifts. The Lord truly gives good things – and He uses people (you and me) to facilitate most of the transactions.
A cheerful giver
Who owns your bank accounts and things? Are you able to freely give and receive as the Lord directs and experience the joy of walking in financial obedience? Do you miss giving if the opportunity is removed from you for a time? Do you give joyfully without obligation but out of love?
I haven't always been a cheerful giver. It used to be an act of obligation instead of worship. Having learned to be a steward instead of owner, I've experienced great joy in giving. I pray that you will also be able to experience that same joy as you journey with the Lord in your finances. May you be giddy as you give!
"Each one must give as he has decided in his heart, not reluctantly or under compulsion, for God loves a cheerful giver. And God is able to make all grace abound to you, so that having all sufficiency in all things at all times, you may abound in every good work." 2 Corinthians 9:7-8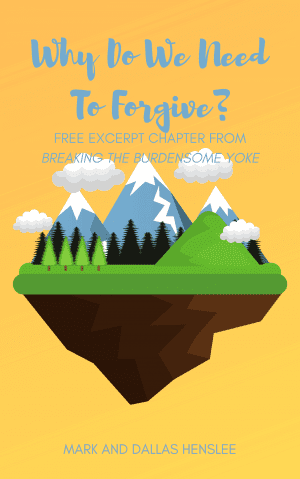 Finding Forgiveness
Get your complimentary PDF excerpt of the Forgiveness chapter from Breaking the Burdensome Yoke.
Delivered straight to your email.
Enter your email address above to receive new blog content and devotional thoughts bi-weekly!