Don't Do It
My brother had come to visit my parents a little before Thanksgiving, so that he could spend time with both sides of the family during the holiday. His wife had to stay home to work, and as expected, shipping schedules sometimes accelerate. The Christmas gift he ordered for her was going to arrive prior to his return home.
Dutifully, he warned her not to get the packages on the stoop, so as to not ruin the surprise. Then, just to be a little contrary (you'd have to meet him to fully understand), he watched on their security camera from his cell phone just in case she tried to sneak a peek.
The front door creaked, and he said over the speaker, "Don't do it." We laughed, and she complied.
Boundaries
There are some things that we just shouldn't do and certainly words that we shouldn't speak. The Lord created and communicated boundaries for us, because He knows what environments and circumstances we thrive in and those which will be more likely to create chaos and difficult hardships. While the Ten Commandments are an obvious place to start, this concept goes beyond the establishment of Law. Take every thought captive (2 Cor. 10:5), think on wholesome things (Phil. 4:8), speak life and peace (Prov. 18:21).
What Else Can Go Wrong?
While we were visiting my parents, both my brother and Mark helped my dad with various maintenance projects. The larger ones included patching a roof and dealing with a leaking toilet. The day after my brother left to go home, Mark and I discovered that the lint catching area of mom's dryer needed to be cleaned extensively. Mark pulled apart the dryer, so we could get that done.
Then, Mark was helping with cleanup from a meal and the garbage disposal started backing up. What we didn't realize is that the disposal hadn't been used in ages and was non-functional. As he scooped out all the food particles that had gone down the hatch, he was lamenting the grossness factor.
We decided to nap a bit that day, and I woke to a text from my brother asking if Mark could pick up a dishwasher and install it for mom and dad. Yep, you guessed it. The dishwasher went kaput while we were visiting. My valiant husband really despises plumbing work, but being a good son-in-law went to work pulling out the old dishwasher and installing the new one.
Dinner was late so we opted for pizza rather than the homemade fried chicken that was on the menu for the evening. We finished eating and were cleaning up when my dad said, "I wonder what else will ….." Mark immediately interrupted with, "Don't. Don't finish that statement. Don't say it."
The next day, I got up and showered. The shower backed up. The toilet that had been worked on earlier seemed to be leaking, and the other toilets were making that dreaded bubbling and gurgling sound. This isn't the first time the Mark has gotten to help clean mom and dad's sewer pipes. Yep, it's Thanksgiving with a houseful of guests, and we're having extensive plumbing issues.
Words Have Power
I was sharing the conversation that my dad and Mark had the night before with my mom after we discovered the extensive nature of our circumstances. She said, "We really shouldn't say things that might give the devil ideas."
There is a spirit realm that can be influenced by our words. While I do not subscribe to the theory that we create our own reality with our words, I do believe that we can partner with the Kingdom of Light or the Kingdom of Darkness with the syllables we utter (James 3:9-12).
We can set something negative in motion with intent or naively. Anytime we agree with unholy spirits, we surrender a measure of power to them. You may experience this with fear, illness, judgement, unforgiveness, etc. It can impact you individually, as a couple/family, and even generationally.
The blessing and favor of the Lord can also be conveyed through words. Think about dry bones being called to life (Ezekiel 37:1-14). The Lord can cause us to have words of encouragement and hope for those around us that are fighting to tread emotional water. He can also cause us to see what is coming or what an individual can grow into even though it isn't currently in existence.
If you have the opportunity to speak judgement, condemnation, or chaos, don't do it. Instead, ask the Lord how He sees the situation and what your involvement in it is. You have the ability to change the atmosphere with the power of your words. Use them wisely.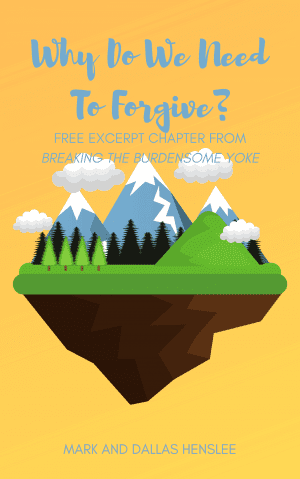 Finding Forgiveness
Get your complimentary PDF excerpt of the Forgiveness chapter from Breaking the Burdensome Yoke.
Delivered straight to your email.
Enter your email address above to receive new blog content and devotional thoughts bi-weekly!