In the summer of 2018 we felt like we were to go to Bangladesh to visit a missionary couple. Mark looked at airlines and flights but didn't really spend much time on it. In December 2018, we sensed that the time was getting close and we should talk with them about when would be good to visit and start planning. In January 2019 it was determined that March would be the best time.
So, we did what we thought God was telling us to do. We started telling people that we were going to Bangladesh in March. We blocked March 4th to 19th on our calendar to go, not having any resources or ability to actually make the trip happen. As a general principle, we don't ask for funds, but instead, pray for the Father to provide making the need known through our emailed newsletter. After the January newsletter went out, we received two donations towards the trip. Then nothing else for all of February. Certainly not enough to be able to buy plane tickets.
Praying it through
In early February, Dallas was speaking with a supporter on the phone when they mentioned the possibility of assisting with airline tickets using their frequent flyer miles (for simplicity and anonymity we'll call them John and Jane). However, Jane was quite busy that week so it could be a while before she could look into it. Dallas informed Mark and we added this potential to our prayer list.
On Thursday February 14th, we were praying over the trip and Mark specifically prayed, "If John and Jane are supposed to help facilitate the trip, please lay it on her heart to look at it today". That night we received a text message with some general flight options. After texting back and forth for a while, Jane was ready to put flights on hold. Then we received a text "Pray harder". So we did. After a bit, we were told that all of the flights had disappeared. It was very late (after midnight her time), and she had to give up and go to bed. While a bit confused, we realized that the Lord had answered our specific prayer – she looked at flights and let us know.
For the next week our prayer was for the Lord to put it on Jane's heart when she was supposed to get back to the flight plans. Meanwhile, we were also asking for the Lord to provide the funds needed to purchase the portion of the tickets that would not be covered by miles plus the ancillary expenses associated with traveling.
A dream
On Thursday, February 21, Dallas woke up and shared that she had a dream the night before. The scene was her standing at our kitchen sink and the house phone ringing. The unidentified person on the other end of the phone indicated that the tickets were purchased. While Dallas was thankful in the moment, she almost forgot to mention it the next morning.
Getting there
That same evening, we received an email with information for flights that Jane had placed on hold. We had told Jane that our dates of departure and return were flexible and to look for flights from Denver. She had held a flight from DFW on March 4th, returning from Dhaka to DFW on March 19th. Those were the exact dates that we had blocked on our calendar back in January. It was of interest to us that the flights were from and to Dallas instead of Denver as we were looking at the possibility of taking Mark's 4Runner to our daughter in the Dallas area in which case, it would work great for us to fly out of DFW.
Friday, February 22, we had a call with Jane to discuss the held flights. We were able to find a flight from Denver with the same DFW to DAC legs at the same cost. So, we released the hold from Dallas and placed a hold on the flight from Denver. This allowed us the time to determine if we needed to take the car to Shanielle as she had an appointment with a second mechanic the next day.
Saturday morning, February 23rd, Mark had the thought that if there was a flight from Denver, maybe there was one from Colorado Springs. Upon looking, there was, so he wrote an email to Jane requesting that she switch the hold to that flight. Before sending the email, we had a call from Shanielle and determined that we did not need to drive a car down to Dallas. A few word changes, and we sent the email requesting that Jane book the flights from COS to DAC leaving March 4th. She did that day.
What about getting home?
You may notice in this narrative that we only booked flights to get to Bangladesh. While we had a flight on hold to return to DFW, the supporters didn't have enough miles to purchase them, and we didn't have enough funds to buy the additional miles needed. Most people would not book international travel for halfway around the world without the ability to book the flights to get back home. Needless to say, we're not normal people, nor has God asked us to operate in the natural, common ways of man.
There was the offer to go ahead and book the return flights that day with John and Jane covering the difference in the cost. This seemed very reasonable, and generous of them, but both of us felt like we were supposed to wait. So, we kindly declined the offer and asked Jane to wait as we continued to pray. To which she replied that she would wait, and "God works in mysterious ways!"
Willing to wait
Through the process of praying for the Lord to provide, we did not actively request funds. We simply stated in our monthly email newsletters that we would be going to Bangladesh in March as the Lord provided. We're learning the incredible power of prayer and dependence on the Lord. It is an awesome thing to come before the creator of the universe with something as simple as airline tickets and for Him to answer those prayers in ways we could not have imagined.
At one point, Dallas even said to Mark, "Do you think we may have to pack and go to the airport before the tickets are available?" We've heard about missionaries who would do that before 9/11, but we're not sure how that would work in today's world. Regardless, if the Lord asks us to do that, we're willing to go there.
We did not have any sense of concern that the trip was not going to happen. While our natural minds did not grasp the way in which it could occur, we knew in our hearts that we were going and that we would also be returning. The willingness to trust the Lord's directions regardless of what we see is of utmost importance in our faith journey.
Acting on promptings
On Monday February 25th, Mark was working on his computer and suddenly had an urgency to check for return flights from Dhaka to Colorado. Lo and behold, there was a flight returning to COS which had never been available in previous searches. He emailed the information to Jane and requested that she put the return flight on hold. Within a short time, she responded with the hold confirmation for a return flight to Colorado which was good until Saturday March 2nd. This was a big deal because the originally held flights to DFW would necessitate at least a couple hundred more dollars in flights back to Colorado plus additional hassle and travel time.
With tickets booked for departure, it was rather urgent to finalize dog sitters for three weeks. We thought we had about two weeks covered but, because the final week was Spring break for the local schools, finding someone was proving to be rather difficult. Through prayer, we believe that the Lord made the connections for the third sitter on Thursday February 28th. Yes, that was just three short days before we were to leave home to start the journey. We met two of the sitters and introduced them to the dogs and the care needed on Saturday March 2nd.
A brief panic
Remember that return flight that was held until March 2nd? It is important to note what time zone a flight hold is good for. Our flight was held until midnight in Bangladesh, which is 10 hours later than our supporters' location (and 13 hours different from CO). You guessed it. We lost the held flights because they weren't booked in time.
We have to admit that despite knowing we were going and that God had everything taken care of, we did have a few minutes of panic. Mark pulled out the computer to search for other possible flights. There was absolutely nothing available the entire month back to COS or DEN. After a prayer, it was decided that we had zero ability to make it happen. Therefore, we turned it over to the Lord and continued working on getting ready to leave the next day.
God did resolve the situation with a return flight option traveling through Hong Kong instead of Doha. Call us weird if you want, but this was rather intriguing and exciting. You see, this flight meant that we would literally be flying around the world on the trip. An added bonus was that the departure time from Dhaka would be easier on us and our hosts. Jane had put this flight on hold until March 7th pending our approval to book.
God protects us from our ignorance
We are still relatively new to the whole international travel routine and therefore are still learning some things about how it works. We knew that we needed a return itinerary before we could get our entrance visa into Bangladesh (about 7 am on March 6th). What we have since learned, is that before we could even board the flight in Colorado on Monday morning March 4th, we needed to have that return flight booked.
Fortunately, God is a good Father who takes care of His children in our ignorance. Since we had booked the tickets to go, John had flown more (he does that, a lot). Sunday morning, Jane texted that we were about 5,000 miles short and that he was flying again that afternoon. We presumed from her message that surely by the 7th there would be enough to book the tickets without having to buy any miles. We already had enough funds to cover the taxes and fees, so we were good.
By God's grace, John's miles from the Sunday flight posted to the account early Monday morning, which apparently does not usually happen so quickly. Jane booked the flights about two hours before we were to arrive at the airport to depart. We were able to print the itinerary at our daughter's house, where we had spent the night, prior to leaving which became rather handy when we were checking in for the flights. Even though we didn't know all the rules, God made it possible for us to comply and pass through with ease.
Continued provisions
Friday and Saturday, we had a couple of glitches. First, our ministry email went down. Second, our ministry couple that we were going to meet messaged us that they were notified that a substantial amount of money wasn't available to them as they had originally thought. Since they were planning on paying all in-country expenses for us, this was a big deal. On Sunday March 3rd, shortly before leaving, we had two people stop by the house with checks to cover expenses related to the trip. We also received emails about a couple online donations that weren't expected. We had been praying specifically for these provisions and, without our asking, the Lord answered our prayers!
In January we had blocked March 4th to 19th. We were a little off in the final bookings as we will be returning to COS on March 21st. I guess the Lord has something extra for us to do in Bangladesh those two additional days.
We write this narrative as we are flying between Dallas and Doha.  With all that the Lord did to make this trip happen, what incredible things are we going to get to walk through the couple weeks we are there?
Hear the story: Planning International Travel by Prayer and Faith (Audio)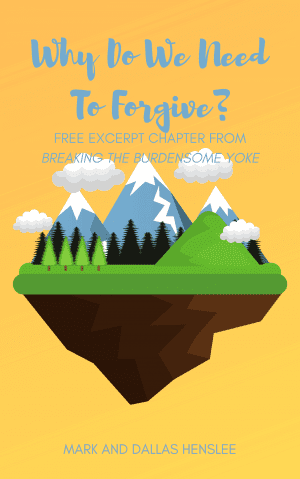 Finding Forgiveness
Get your complimentary PDF excerpt of the Forgiveness chapter from Breaking the Burdensome Yoke.
Delivered straight to your email.
Enter your email address above to receive new blog content and devotional thoughts bi-weekly!