In the summer of 2016, our daughter, Gabrielle, had a check engine light come on in her car.  She took it to a national brand repair shop who quoted an exorbitant price for repair. I knew that I would be in Houston the following week, so I told her to tell them thanks but that she would get a second opinion.  I prayed for the next week that the Lord would guide me to a trustworthy mechanic that not only could do this work but also be a source for any future needs.
The search begins
I asked a few people in the area if they knew a good, trustworthy mechanic, but no one did.  Seems odd that all these people don't have a mechanic that they trust. I guess I'm odd in that I tend to drive older, high mileage cars and build a relationship with my mechanic.
Before getting to Houston, I told Dallas that I thought I knew which direction I was supposed to go from Gabrielle's apartment, but that was all I had gotten from the Lord.  The day came, and I started off down Rice Street. I was driving in the left lane with a city bus in the right lane just ahead of me. A little way down, I got the impression that I was supposed to get in the right lane.
In my desire to not be behind the bus, I didn't move over right away.  At the next light, I had to stop. The bus also had to stop and did so short of the light, about a car's length.  There, on the corner, was an old, faded sign that read "Bellaire Auto Repair" with an arrow pointing down the street to the right. Since I hadn't immediately listened when impressed to get into the right lane, I had to go down to the next street and then circle back.  Note that God had caused the bus driver to stop short of the light so that I could see the sign.
Success!
Once I circled back to the corner with the sign, I began looking for a Bellaire Auto, but there were no auto shops right there.  So, I figured the sign and arrow were directional and I drove down the street. Not too far down, I saw an auto repair shop and got the impression that I had arrived.  On the wall was a sign that read "Tommy King's Auto Repair: Serving Bellaire since 1973" along with an ASE sign and a listing of services, all of which fit what I was hoping to find.
I walked up to the mechanic that was working under the hood of an SUV.  He greeted me, and we began the conversation about what was needed. Sonny is the head mechanic at the shop.  He listened, advised and genuinely wanted to help.  We went into the office so that I could write down my information for the office manager to call me with a quote.  It was a surprise to look in the back shop area and see quite a few classic cars along with later model cars. It turns out that Tommy King's clientele is primarily doctors and lawyers with toys.  We don't really fit as their normal clients, but the low pressure, family feel of the place fits us.
When we went back a little later to leave the car, we met Tamara who manages the office and is the owner's daughter.  We spent a little time visiting, mostly surface stuff. I told her that whether she knew it or not they were an answer to prayer.  She looked a little unsure about how to take that comment but seemed okay. I guess that many people would hear a story like this and think that I'm just a bit off.
Lessons on hearing God
On the way back to the apartment, I got to share with Gabrielle how I found the shop.  One of the big points that I've had to learn in hearing God is that we don't get a big choir of angels or a nice clear audible voice.  Scripture tells us that the Lord speaks in a still small voice. I would say that it is much less of a voice and more of a prompting or knowing inside; others might say it's an impression.  I've tried to figure out how to explain it, but it really is something other than humanly normal. How did I know to go south? Well, I just did. Why did I know that I needed to get in the right lane?  Not sure but I knew it. The sign on the corner was a bit more obvious.
Even when we miss it, like when I didn't get behind the bus, God is kind and gracious to give us another chance.  However, if we are purposeful in ignoring His promptings, then He will honor our request and leave us to our choices.  Obedience is a choice that we get to make through each step of life.
Something else to know is that sometimes the Lord uses the physical to speak to us, like with the sign.  It is important that we not limit Him to our methods and our ways. I find in Scripture that Jesus performed healings in multiple ways and rarely (if ever) did He do something in the same manner.  God is interested in a personal relationship, and therefore, He personalizes how he relates to each of us.
Putting it into practice
For bigger life decisions, it is wise to seek Godly counsel for confirmation in addition to praying about it.  Something like finding a mechanic is different than selling everything and going into a specific ministry. The Lord will speak; we need to be sure it is Him and not ourselves.
No matter what is in front of you, if you sincerely seek the Lord's direction, He will answer.  You may have to quiet your life to hear. Too often, we let the busyness and chaos of life drown out His voice.  Keep in mind, you will likely have to adjust your path to get where He is leading you.
Is the Lord speaking to you?  Are you in a place to hear Him when he does speak?  Are you choosing to walk in obedience?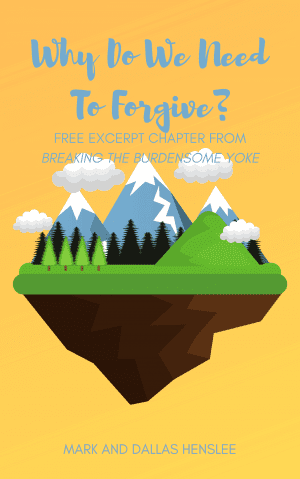 Finding Forgiveness
Get your complimentary PDF excerpt of the Forgiveness chapter from Breaking the Burdensome Yoke.
Delivered straight to your email.
Enter your email address above to receive new blog content and devotional thoughts bi-weekly!