The Ugly Cry that No One at Church Will See
Unhealthy Expectations
There is this weird, unhealthy expectation that we must always put forward our best faces at church. NO. MATTER. WHAT.  Sometimes you hear this referred to as one's "church face" or "mask".  These coverings are particularly useful if you've just had an intense argument or "special moment" in the car on the way to church.  You pull in the parking lot and everyone dons their pleasant voices and approachable faces.
This desire to be greeted by nonthreatening, inauthentic, and "plastic" countenances is often projected onto our pastors and leadership with exponentially unrealistic expectations.  You know the ones that sound something like, "That's our pastor and his family. They're perfect. They're superhuman like the Incredibles. They're…."  Well, you get the idea.  
The reality of the matter is, they are human.  They have a residence that needs to be kept clean, they may have pets or children that are in need of extra care or have demanding academic and extracurricular activity schedules, they have bad hair days, and days when their car breaks down.  
While this entry was written a while ago,my hope is that the candor of the following personal journey entry helps you better understand how to support your pastor and leaders.  Additionally, if you find yourself with such a title, I pray you feel a little less alone on those really tough days.
Untold Burdens Weigh on Me
Today is a really hard day.  It's a day you likely won't hear about in any update newsletter from us, or anyone else in ministry, for that matter.  That's because we depend on donations from our supporters and our supporters want to hear good news and momentum reports.  So, we filter.
Today, we came right up against bills needing to be paid and the amount needed wasn't in our checking account, nor was the tiny bit remaining in our savings enough to pay everything owed.  We have been instructed to live a debt free lifestyle so the fact that God didn't provide extra donations stung; and it sent me into a tailspin or crisis of faith.
See, it isn't just the monthly bills, but I also have a daughter that will be getting married soon.  Presumably, there will be 2 more weddings for daughters in the next few years, and I have absolutely no money to help with the cost of the festivities.  This breaks my heart, because I've dreamed of providing beautiful weddings and receptions for my girls for a very long time now.
Today is a hard day because several ministry related items and appointments seem on hold and we are struggling to find community and a church family.  Which means much of our spiritual gifting is largely unused at the current time as well.
Questioning the Call
Today is a hard day because I look at all that and wonder why God asked us to move here; to move to this rural community that is much more to my husband's liking than mine; especially when I'm not seeing the result of our sacrifice and labor.
On days like today, I long for the beautiful home and financial security we had when we were both employed.  That time before God asked us to leave our "fishing nets" to come follow Him into full-time, solely donor supported ministry and exhaust our financial storehouses.
Today is hard because I have come to realize that we no longer live in a nation that says, "If I can't go, I'll support someone who can with my money."  Instead, now many have an attitude of, "Even though I can't serve on the mission field, I'm not convinced those who are, actually need my money."
All of that has brought me to today.  A difficult day because in the last 2 months, I've had multiple friends lose parents, and watched another friend lose someone close to cancer.  I've made an emergency trip to visit my own father in the hospital. In the midst of all that grief going on, I hear about summer vacations and date nights, and that just isn't part of my reality right now.
The Floodgates Burst Open
Today was a hard day.  It was hard enough that I couldn't keep my emotions contained anymore.  I cried for hours. I simply could not stop. I couldn't eat dinner, and I just laid in bed asking God what I had missed or what I was supposed to be doing.  I was desperate enough to offer God the sacrifice of a fast that would look more like a hunger strike. I also confess I was dangerously close to giving up and decide to live the remainder of my days without getting out of bed.
When your pastor or leaders tell you that your notes of encouragement are vital to those serving, whether near or far, they are not exaggerating!  Part of what made today so hard was that I'm lonely and I need to know someone outside my family still cares.
Today is a hard day because my husband and I each need friendships, mentors, and pastoral covering.  As we look around, we find a void.
Today is a hard day because I must practice what I preach.  I must stand against the lies of the enemy. I cannot allow myself to place my identity in what I do, and I cannot place my security in my finances.
BUT, I Hold Onto This Hope
Today is a hard day, but I have resolved to mirror Paul's convictions in 2 Timothy 1:12 (NIV).
…I know whom I have believed and am convinced that He is able to guard what I have entrusted to Him until that day.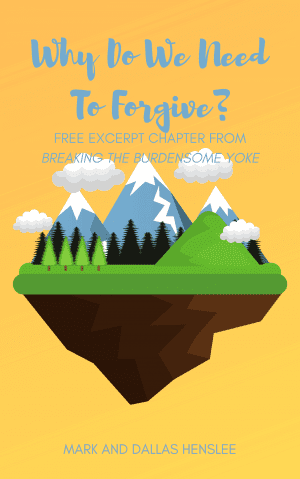 Finding Forgiveness
Get your complimentary PDF excerpt of the Forgiveness chapter from Breaking the Burdensome Yoke.
Delivered straight to your email.
Enter your email address above to receive new blog content and devotional thoughts bi-weekly!